The Kansas City Chiefs joined community leaders to support the fight against sexual abuse and assault on Thursday as Chiefs Chairman and CEO Clark Hunt and his wife, Tavia, served as Honorary Co-Chairs of the MOCSA Community Luncheon in downtown Kansas City.
MOCSA, the Metropolitan Organization to Counter Sexual Assault, exists as the only community-wide resource exclusively committed to providing services in the area of sexual assault and abuse.
Founded in 1975, MOCSA strives to improve the lives of victims and to prevent sexual violence in our community.
"As a family and as an organization, the Chiefs are proud to partner with MOCSA in their efforts to provide care and direct support for survivors and to fortify their mission of countering sexual assault through prevention and education," Clark Hunt said. "Earlier this month, I had a chance to gain a deeper understanding of the challenges facing our community in the area of sexual assault and was overwhelmed by the stories I heard – both by the scale of the challenge and the optimism and positive spirit of the MOCSA team to meet that challenge."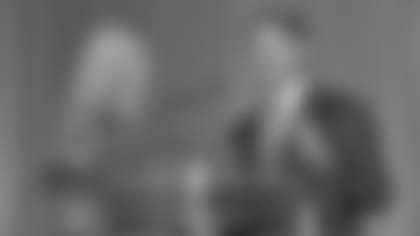 Statistically, one in four girls will be sexually abused during childhood and one in six women will be the victim of rape or attempted rape during their lifetimes.
It's a societal problem that both MOCSA and the Chiefs are committed to combatting.
"MOCSA reached more than 56,000 people through education and outreach last year," Tavia Hunt said. "Their message is clear – sexual violence is never OK. It is never the victim's fault – they can tell someone and there are resources available that can help them become survivors."
The Chiefs have shared that message alongside MOCSA staff at nearby Central Middle School in each of the past two years with the intent of stopping sexual violence before it begins. "Green Dot" programming, as it's known, is actively making local schools safer, more welcoming and more inclusive.
"Through MOCSA's youth education programs, officials and student leaders have teamed up to educate local schools on how to identify and prevent sexual harassment," Clark Hunt said. "The program's curriculum also teaches the fundamentals of healthy intrapersonal relationships and the shared responsibility to put an end to sexual harassment and violence in the community."
That message was further articulated by Academy Award winning actress and human rights activist Mira Sorvino, the luncheon's keynote speaker.
"We have to work within our communities to end this," Sorvino said. "That's the most important thing that we can do right now in this day and time. I feel like this is a new day dawning on humanity and I encourage everyone to join us with their voices."