It's been three weeks since the Kansas City Chiefs signed seven players via waiver claims. All seven have fit right in with the 2013 Chiefs and are making contributions to the team, during practice and/or in the fast 3-0 start.
During the next few days, we'll bring you a closer look at each player, including the three below, Chiefs CB Marcus Cooper and LBs Dezman Moses and James-Michael Johnson, each who revisited the day they arrived to One Arrowhead Drive.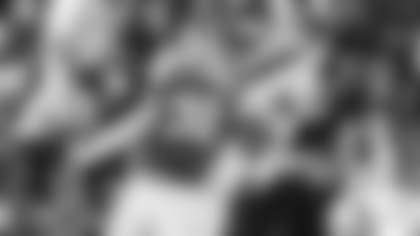 Chiefs CB (#31) - Marcus Cooper
What was your transition like, coming to the Kansas City Chiefs?
"It was fast. One minute I'm talking about being on the practice squad with San Francisco and the next minute, I had to pack my things up and I came here. It's been a great experience; it's been fast-paced and I'm enjoying it."
What's the "business side of the NFL" like?
"It's a great environment for us as players to be in, because as competitors, that's the type of environment we want to be in. This atmosphere is all about competition and winning and that's what I love. This is another opportunity for me and I'm glad to be playing for the Kansas City Chiefs."
What can Chiefs fans expect from you on the field?
"I'm a hard worker, first and foremost. I'm going to play fast; anything they need to get done, I'm going to try and go out there and do it. I'm a coverage corner and I'm prepared to press a lot of guys; that's what my size allows me to do."
How have your teammates in the Chiefs secondary been like, since you arrived?
"They've been great. I felt welcomed as soon as I got here. Being able to play alongside of them is a true blessing."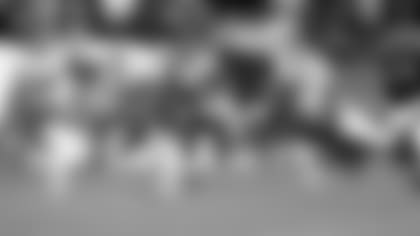 Chiefs LB (#54) - Dezman Moses
What's the vibe around this team?
"I'm feeling really good. There are some good young guys here and some great vets, who show great leadership. Coach Andy Reid, obviously he's a great coach, known for winning. I'm excited to be a part of this up-and-coming program."
What's it like playing for the Green Bay Packers and now in 2013, you're a member of the Kansas City Chiefs?
"It's definitely a different feel and a fresh start for me. I'm extremely excited. John Dorsey, he brought me in and he believes in me. I don't like to let people down, so I'm going to go out and play my game and help the team any way possible."
John Dorsey said you're going to watch as much film as anybody and work hard daily to make this team better on defense and special teams.
"That's part of the game. I love playing football, so it's a great opportunity and it's a privilege to play football at this level and I don't take it for granted, any day. I'm going to continue to work and try to get better and help this team."
How would you describe the business side of the NFL?
"It's an emotional roller coaster, sometimes. You're settled into a place, you have a place to live and you have friends and dogs and everything, but it's part of the business; they pay you good money to be able to get up and move and still be able to be successful. It's part of being able to adapt and adjust and do it at a high level; it's part of the game."
Chiefs LB (#52) - James-Michael Johnson
What's the transition been like for you, coming to your new team?
"Quick and fast. I'm happy to have this opportunity, especially with the Chiefs."
What were your first few days like and what were your expectations?
"I didn't really know what to expect. I knew some of the players and we played them last year, when I was with the Cleveland Browns, so, I was familiar with what guys we have."
What's it like playing for Andy Reid?
"He's a great coach and keeps us going at a fast pace, so, I'm continuing to learn as much as possible, as fast as possible."
What can Chiefs fans expect to see from you, on the field?
"I'm a real energetic player. I love playing football. I love making plays. I love to compete and win."
Your locker is right next to Chiefs Pro Bowl LB Derrick Johnson; what's it like playing with him?
"It's been great. I've watched him for a long time. He's one of the better inside linebackers in this league; so, to be able to learn from someone like that continues to be great."
Overall, what's been your mindset during the whole transition to KC?
"You never really know when your time is done in one organization; you never know when that clock is up. So, boom, they made a decision and told me I'm here and I continue to work as hard as possible, every day. I just continue to pray and keep on the right path. I believe God puts people in places for certain reasons."