The Kansas City Chiefs officially began their training camp Friday, July 26th and complete their stay in St. Joseph on August 14th, with an 8:15 AM CDT practice. Between the practices, team meetings, road travel, and more, we will bring fans closer to the entire team, including the Chiefs rookies and free agents, who were signed in the offseason.
Today, we catch up with Chiefs rookies, DB Otha Foster III and DL Brad Madison, as each participated in OTA and minicamp practices, bringing them to today, where they're competing for spots on the 2013 Chiefs roster.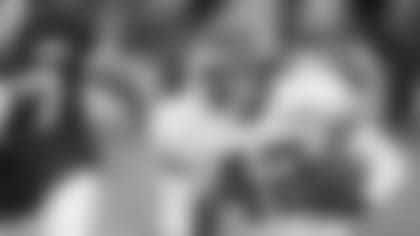 Chiefs DB Otha Foster III
What should Chiefs fans know about you?
"I'm from Louisiana, born and raised, but played at the University of West Alabama."
At West Alabama, what was your favorite game or most-memorable moment?
"My most memorable moment was beating UNA, North Alabama."
What was it about that specific game that you remember most?
"It was just a real good game. They hadn't beaten North Alabama in a while and if we won that game, we had a chance to win the conference, so it was just a real good game."
From the end of your college career until you joined the Chiefs, what took place?
"Really I had just been working out, trying to find an agent and started training. I trained everyday with current-Chiefs LB Ridge Wilson. What has it meant to you to be a part of this team?
"It is very humbling. It is a great experience and a dream come true. Going to the military, my dream kind of faded away. I was in the U.S. Marines and the dream faded away and to be in this locker room with Chiefs S Eric Berry and having a Hall of Famer, Emmitt Thomas as a DB coach is very surreal. So, it's a great experience."
How long were you in the Marines?
"I was in the Marines for three years."
Thanks very much for serving! What was your transition like, from the Marines to football?
"My last year of Marines, I went into the Reserves and went to a tryout for a junior college; I made the team and played there for two years, signed with Ole Miss, but my eligibility clock ran out and they could only sign me for one year, so I went Division II."
What was your title in the military?
"I was communications, my MOS was Communications and I got out as a Lands Corps."
What can Chiefs fans expect from you?
"I'm a very fast guy. My speed and awareness to get to the ball; I try to deliver some good hits and ball hawking."
What are the most important lessons you have learned from Eric Berry, Brandon Flowers and the secondary guys?
"The playbook- you have to get the playbook, learn the playbook. You can't play to your full ability and full speed, unless you know the playbook."
*Best 40-yard dash time: *4.38 seconds
Best vertical jump: 37-1/2 inches
Best broad jump: 10'2 inches
Bench Press: 225 pounds - 17 reps
Those are strong numbers; were you pleased with them?
"I was very pleased with all of them. I really wanted to run faster in the 40, but I was very pleased overall."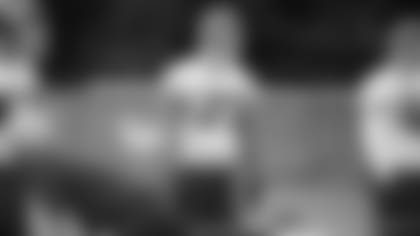 What should fans know about your college career?
"I went to University of Missouri, where I played for five years. I played OL my first year and defensive end for four years."
What was your favorite game at Mizzou?
"It's probably the Oklahoma game. We beat Oklahoma when we had (ESPN's) College GameDay when OK was #1 in the country."
Any particular moment from that game?
"The whole game, really. Probably the last play, when the fans were on the field, before the game was over."
What happened between your time at Missouri and the day you signed with the Chiefs?
"I went and trained in Atlanta, and also with Will Shields at his facility, here in Kansas City, then went back to Atlanta and trained for a little while. I went back to Columbia and just waited to see where I was headed."
What was it like to get an official offer from the Chiefs?
"It was fun. I've been a Chiefs fan for a long time, so it was kind of exciting to stay close to home and have friends and family around."
Where were you when you got the call form the Chiefs?
"I was at my brother's house in Columbia and just hung out there all day and waited for the news." How would you describe your time, so far, with the Chiefs?
"It's been fun. I've been doing a lot of snapping, making a lot of new friends, so it's a great team atmosphere to me. I'm happy to be here and am going to do what I can to make the team." If you weren't playing football, what would you be doing?
"I might try to coach something. I like basketball a lot, so maybe try to coach basketball or football."
Who do you thank most for helping you to achieve this job with the Chiefs?
"A lot of my success goes to my brother. Having an older brother drives you to be good and drives you to be as good as them; that helped me out over the years."
What's the biggest difference between the college game and pro game?
"I would say the mental aspect; it's a lot more complex and a lot faster."