The Kansas City Chiefs officially began their training camp Friday, July 26th, on the campus of Missouri Western State University and completed their stay in St. Joseph on August 14th. Training camp continues, however, for the Chiefs back at One Arrowhead Drive.
Between the practices, team meetings, road travel and more, we will bring fans closer to the entire team, including the Chiefs rookies and free agents, who were signed in the offseason.
Today, we catch up with Chiefs rookie safeties, Bradley McDougald and Greg Castillo, as each participated in OTAs, minicamp practices and continues with training camp, bringing them to today, where they're competing for spots on the 2013 Chiefs roster.
Chiefs S - Bradley McDougald
What is one of your favorite game memories from college?
"Playing at Arrowhead against Mizzou; that was definitely one of our biggest rivalries before we left to the SEC, but just going down there and feeling the atmosphere at Arrowhead was awesome."
Does that add to your excitement of playing at Arrowhead as a member of the Chiefs?
"A little bit more, because you get the full, true Chiefs Kingdom feel of it. You get the Chiefs fans, instead of just your Kansas fans; it's a combination of both."
How would you describe your time at Chiefs training camp?
"It was enjoyable. Coach Reid did a great job of giving his players time off and giving us time to let our minds mentally rest and let our bodies get back physically."
What have the Chiefs veterans, like Eric Berry and Kendrick Lewis, taught you?
"Being a professional, it's a lot of work off the field; it's more work between-the-ears. When you get an opportunity to show the coaches what you have, you have to go out there and perform. We study countless hours of the day, so when you get a chance to go out there, you have to show it."
What were your hopes, going into your first two preseason games with the Chiefs?
"I just wanted to show coach I can be consistent and not only consistent, but that I know what I'm doing and that he could put me anywhere out there with any group and I'll be able to communicate and get the job done."
How would you describe your play?
"Consistent. That's probably one of the things I try to pride myself on, staying consistent."
What are you anticipating most in the Chiefs regular season home opener at Arrowhead?
"I'm looking forward to seeing more of the Sea of Red and the passion and eagerness that comes with the regular season."
What can Chiefs fans expect from you?
"Relentless effort, going all-out every play, any time I get an opportunity to do something; I'm showing up."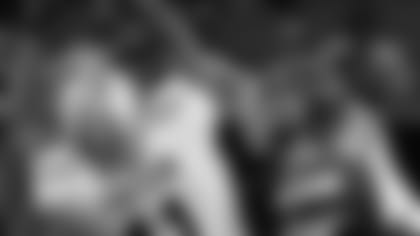 What is an instant memory you have from your days playing for the Iowa Hawkeyes?
"Probably the first time I ever ran out at Kinnick Stadium, words can't describe the feelings I felt. It was awesome; they're the best fans in college. It was great."
What was the moment like when you were signed by the Chiefs
"It was a pretty sweet deal. You dream of this as a kid, so it's pretty neat to have a dream come true or quite possibly have the dream come true."
How would you describe your time at Chiefs training camp?
"It was good. We ran a lot of plays.  A lot of plays were run during each practice; good tempo and offense and defense were both competing; we both got after each other and got better every day."
What are some of the most-valuable lessons the Chiefs veterans have taught you?
"Get better every day. Study film. These guys have been so great; they've been so helpful, they're a great group of guys."
What are your expectations for the 2013 season?
"Just getting better every time I step out there on the field, as a team too; that's the main key, if we progress every day, then you're bound to be good."
"I was a big hip-hop guy, until I went to Iowa; I like country now."
"I'm a big James Patterson guy; I like any book he writes."
Favorite College Game Moment
"My senior year against Michigan State, double-overtime, I had the game-winning pick."