The Kansas City Chiefs officially began their training camp Friday, July 26th, on the campus of Missouri Western State University, and completed their stay in St. Joseph on August 14th. However, the preseason training continues tomorrow in Pittsburgh, facing the Steelers during the Chiefs third exhibition game of the year.
Between the training camp practices, team meetings, road travel, games and more, we've been giving fans a closer look at the players on the 2013 Kansas City Chiefs roster.
Today, we catch up with Chiefs rookie LB/DEs, Josh Martin and Ridge Wilson, as each participated in OTAs, minicamp practices and continues with training camp, bringing them to today, where they're competing for spots on the 2013 Chiefs roster.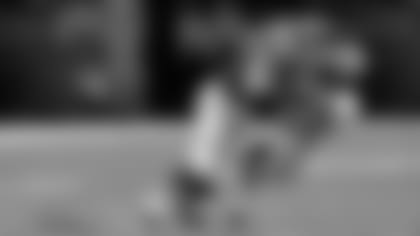 CHIEFS LB/DE - Josh Martin
What is your favorite college moment?
"My favorite college game moment is probably my last home game against Cornell. I had the most sacks in a game that I had had in my career. I had three sacks in the game, a forced fumble against the QB; I just seemed unstoppable. We pulled out the win for our last senior home game."
What has life been like since you joined the Chiefs?
"It's been fast a lot of stuff going on and I'm learning a lot. It's a different experience, college football and the NFL, so just making that adjustment and once you're around all the guys, it becomes a lot easier, because you can watch the older guys and see how they do things and base your behaviors off of them."
What is the biggest difference between college and pro football?
"The talent level, definitely. You're going against people that are better; they're faster."
How would you describe your time spent in Andy Reid's training camp?
"It was fun. It was hard. I definitely became a better football player because of it."
Were your first two preseason games with the Chiefs just like you imagined?
"It was more than I imagined. Being on an NFL field, in an NFL stadium, with an NFL crowd is pretty amazing."
Favorite book
Fahrenheit 451
Favorite Music
"I'm big on jazz. I played jazz trombone in my high school jazz band for a few years."
Favorite Meal
"I like Thanksgiving; the stuffing, the turkey, the macaroni and cheese, green bean casserole and the dessert too, sweet potato pie, lemon meringue pie; Thanksgiving is definitely my favorite."
Favorite Movie
The Sandlot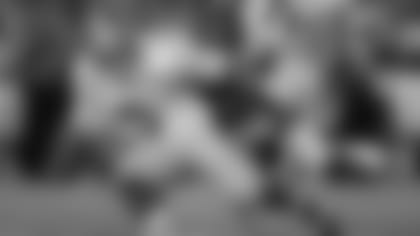 CHIEFS LB/DE - Ridge Wilson
What is your favorite college game day memory?
"The fans; they pretty much make college and sports fun, period. Riding through the town that you're playing in, right before the game and you have police directing you through traffic and then you have the fans riding beside you, cheering you on."
How would you describe Chiefs training camp?
"It's great. Andy Reid; he's a player's coach. He really looks out for our best interest. We're putting in the work, but he gives us enough recovery time every day, so no one gets injured. It's been great."
What have the Chiefs veterans taught you?
"Take care of your body. Get in the cold tub. In college, they don't make it mandatory for you and they don't make you do it here, but some of the guys like Tamba Hali and Justin Houston tell you, 'You better get your behind in the cold tub, so you can come back fresh the next day'".
What can Chiefs fans expect from Ridge Wilson?
"I'm a hard-working kid, fun to be around and someone who is trying to absorb and soak in the game as much as possible and someone who wants to win. I just want to win."
Who do you attribute your success to?
"The Lord, first and foremost; if it wasn't for Him, none of this would be possible."
Favorite piece of advice
"If better is possible, then good is not enough."
Favorite Meal
"Pasta with alfredo sauce, with the pepperoni, bacon and chicken."
Favorite Movie
Remember the Titans