The Kansas City Chiefs officially begin training camp on Friday, July 26 at 3:30 PM CDT and complete their stay in St. Joseph on August 14th, with an 8:15 AM CDT practice. Between the practices, team meetings, road travel and more, we will bring fans closer to the entire team, including the Chiefs rookies.
Today's rookies, Rico Richardson and Frankie Hammond Jr. are both wide receivers, who were signed as free agents and participated in OTA and minicamp practices, bringing them to today, where they're competing for spots on the 2013 Chiefs roster.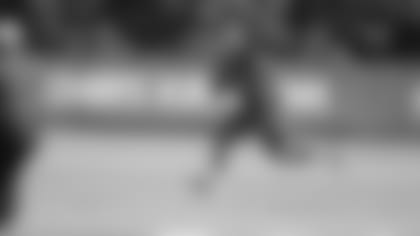 Chiefs WR - Rico Richardson
How would you evaluate practice today?
"I think I had a pretty decent day. I caught a TD. I caught a couple more passes. I had one drop but overall, I had a great practice, the coaches liked what they saw."
What are your thoughts on the time coach Reid spends teaching you and your teammates?
"That's how he is. I like it. You learn the plays better when the coach, especially the head coach stops and tells you exactly what you should do and how it should be done. So, I think that will help everyone out in the long run."
What else have you noticed about coach Reid?
"He never wants you being still. So, if you see him, you better be moving."
What is your favorite college moment at Jackson State?
"My favorite college moment was my junior year, when we played Southern University. We were going into the fourth quarter and the score was back and forth, back and forth. There were 19 seconds left in the game and they kicked us off the ball and we got the ball on our own 30-yard line. There were two plays left and our quarterback threw a 30-yard completion, but we still had a ways to go. Last play of the game, the quarterback threw me a go route and I scored and won the game by one or two points."
What was going through your head?
"Can this actually be happening? That was my first game scoring and I actually scored three times that game. It was a big moment for me. I was so in shock. The whole team and crowd ran onto the field."
What have you heard about playing at Arrowhead Stadium?
"From what I have seen on TV, the fans, they are into the game and know what is going on and they just bring a lot of energy and I can't wait to play for them."
Who would you like to thank for helping you to get where you are?
"My family. They push me with everything I do. They are right behind me with everything I do. If I mess up, they are still going to be right there and push me to the end."
If you weren't playing football, what would you do?
"I would work off shore with my brother, who is about ready to be a sea captain. He has been showing me everything I need to know and it's good money so, that's what I would probably do."
What excites you most about playing for the Chiefs? Is this a dream come true?
"This is a dream come true. Like everyone says, you've been doing this and seeing football since you were a little kid and you want to do that one day. Now that it's here, it's a dream come true."
Favorite Music: Rap, R&B, nice slow-down songs
Favorite Book: Bluford Series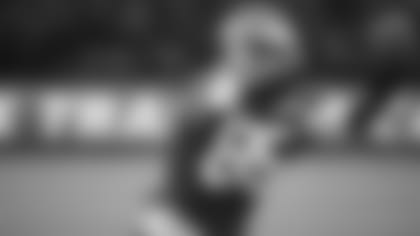 Chiefs WR Frankie Hammond Jr.
What has your time been like, from your last game as a Florida Gators WR until today?
"It's just been a grind. It's always your dream to make it to the NFL so, now that it's finally here, I just want to make the best of it. Since January, it's just been a grind and now I just have to take advantage of the opportunity."
What were your emotions like when you received the call from the Chiefs?
"When I got the call, I was just excited. I was a free agent, so, I had a couple of other teams to decide from but, I felt the Chiefs were the best fit for me."
"Just because of the receiving corps and with the new coaching staff; it's a fresh start and a new look, so I figured this would be the best opportunity for me."
What are your thoughts on Andy Reid and his staff?
"They care about us as people. You can come to them about anything outside of football and that's another asset that I like about coach is, outside of football, you can come to them and he does his job on the field too. They're all great coaches and everybody gets along, we're all family."
What's your favorite moment from college?
"Working with my teammates and scoring my first touchdown in 2009 against FAU."
What have you learned from the Chiefs WRs?
"They do everything the right way. They go ahead of me and whatever they do, I want to make sure I copy what they're doing because, they're doing it the right way and they've played in games and been in the league for awhile so, I definitely want to mock them and pick up some things that they're doing right, so I can better my game."
What can Chiefs fans expect to see from you?
"Just a hard-working guy, who's going to give his all in between those lines."
If you weren't playing football, what would you be doing?
"I'd probably be doing a job similar to yours because, I graduated with a telecom degree. I want to be a broadcaster/analyst, whenever football is over and done with; that's what I want to do."
Who would you like to thank for helping you to get where you are?
"My parents because, they've always been there, since day one and even pushing forward. They've just always been there; my family and definitely my parents."
What have you heard about playing at Arrowhead Stadium?
"I do hear it gets kind of crazy. Playing down at Florida, it gets kind of crazy down there too, so I'm hoping it's probably similar or even better (at Arrowhead)."
Favorite Music: Rap, hip-hop and R&B
Favorite Book: Victor Cruz's book, Out of the Blue
Favorite Movie: Fast & Furious
Favorite Food: Haitian food