The Kansas City Chiefs renewed a summer tradition on Tuesday morning by wrapping up the final day of Training Camp with Military Appreciation Day.
More than 100 Service Members from each branch of the military braved some rainy weather for the event, which invited the troops to spend the morning in the VIP Tent that overlooks the two practice fields while the Chiefs prepared for the upcoming season below.
"This is actually my first NFL Training Camp," said Sgt. Christopher Irvin. "I went to a couple Pro Bowls when I was stationed out in Hawaii, but I've never been to a Training Camp until today. It's just awesome to be here at this event and I'm looking forward to doing it more often."
It was an opportunity for soldiers like Sgt. Irvin, who is from Atlanta, to experience what the Kansas City area is all about firsthand.
"I had never been to Missouri before moving here," Sgt. Irvin said. "We don't always get to pick and choose where we go, but to be able to serve my country and come to an event like this is amazing. It's just great that this organization reached out and gave us a chance to be fans up close. I'm always watching through the TV, so it's nice to actually see these guys perform their craft right there in front of us."
Even for those that have been to camp in years past, that collective feeling of excitement was still ever-present.
"To come out here and see the team play some ball is what you dream about when you're a little kid," said Staff Sgt. Michael Dinwiddie, who has attended camp in each of the past three years. "It's crazy to see the rapport that people have around here with the Chiefs. I don't think I've ever seen a team with this kind of excitement from its fans. You go to the high schools or the colleges and there's just Chiefs' stuff everywhere, so it's cool that the team puts this on for us."
And watching camp was just the beginning, as the soldiers were invited onto the field to meet the players following the conclusion of practice.
"It was great having them here - they bring a great spirit with them," said Head Coach Andy Reid. "I love seeing our players with them, they love to intermingle with them, take some pictures and sign autographs…it was a good day."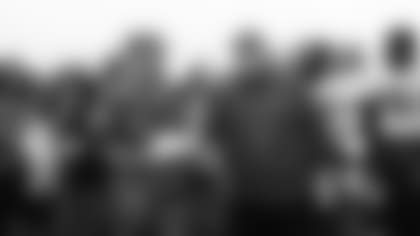 Reid made a point of bringing the troops into the post-practice huddle and even introduced a handful of the soldiers in front of the team.
"Coach Reid is one of the biggest supporters of the military around. I've been to a lot of camps in my career, and they all do a military day, but the Chiefs make it pretty special," said Capt. Ronald Riggi. "They give us unfettered access and really let us talk and interact with the players…I know Coach Reid has military connections in his family, as do most of the players, and those are the guys we really like to meet."
It was an opportunity the players didn't take lightly, as several of them stuck around in the rain for nearly an hour after practice getting to know every soldier that came their way.
"This was really important to me just because of the work the military puts in to preserve our freedom in this country," said defensive lineman Chris Jones. "I have people in my family that are in the military – in the Navy and the Army – so it's dear to my heart."
That sentiment was apparent on every inch of the field.
"They've done so much for us by defending our country," said running back Kareem Hunt. "We need to appreciate people like that."
In fact, Hunt was one of several players that received unit patches from the troops in attendance as a way of remembering the morning. 
"Trading patches is a military tradition – it's like welcoming somebody into your unit," said Capt. Donald Frazier, who is stationed a few hours away at Fort Riley. "It's like leaving your mark when somebody is important to you or has left an impact on you."
That symbolism was something that went a long way with each of the players that received a patch.
"This is some really cool stuff – I'm going to have to make a jacket out of these things," said tight end Travis Kelce, whose jersey was littered with patches by the time the morning came to an end. "It's just so awesome to be out here and to show these guys some respect for all that they've done for us."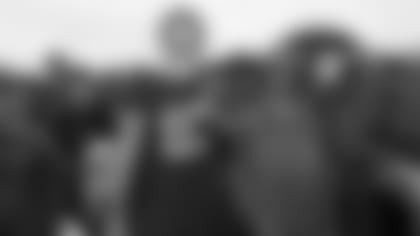 It's a mutual respect that permeated throughout the morning, minting an experience that neither side will soon forget.   
"The Chiefs are such a big part of my community, so it was important to me to share some Big Red One patches with these guys for everything that they've done for us over the years," Frazier said.
"I wanted to welcome them into the Big Red One."
Members of the armed forces from the local area and the world visited Chiefs training camp on Tuesday.