Training Camp is all about fostering productive competition up and down the roster, and while it may have only been Day 2 for Kansas City Chiefs' defensive end Chris Jones on Friday, consider the former second-round pick excited about the talent present along the Chiefs' defensive line.
"It's good for us [having this] competition level," Jones said. "We have a lot of great guys. The young guys – [rookies Derrick] Nnadi and Dee Liner – [plus], we've brought some new faces in and we brought Jarvis Jenkins back. The competition level is high and that's what we want around here - a group of guys that want to get after it."
Jones certainly got after the opposition last year, tallying 6.5 sacks, seven passes defensed, four forced fumbles and an interception as a second-year professional in 2017 – prompting even higher expectations heading into this season.
"I want to lead the NFL in sacks," Jones said. I've been talking about it all summer and voicing it to my teammates. I believe that wholeheartedly, and you have to speak it to believe it."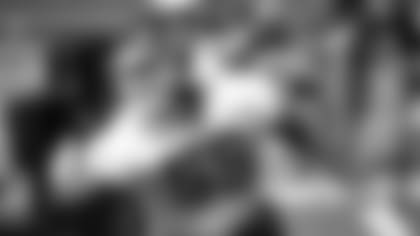 Whether the 24-year-old is able to achieve that lofty goal or not, his unique blend of productivity, experience and charisma makes the always enthusiastic defensive end a fitting mentor for the new faces in the locker room, such as Nnadi and Liner, that are about to embark on their first campaign in the NFL.
"[It's all about] bringing them along and getting them to up to pace," Jones said. "We have a lot of young guys and we're going to use them during the season, so we need to get them on board, get them up to our speed and get them competing day in and day out. It's a huge transition from college to the NFL, so I'm just bringing those guys along, showing them the ropes and getting them on board."
That goes beyond just studying the playbook and showing up to practice on time – it's a way of life.
"[The transition] is more so mental," Jones said. "There's a lot of things that happen off the field and on the field, so you have to balance those out. Young guys, they don't know what to expect when they first get here. You have meetings, you have practice and then more meetings, so you have to find a way to stay balanced. I try to give them that balance through everything."
That's why the seclusion of Training Camp, which takes place 60 miles north of Arrowhead Stadium, can be so valuable for a roster of players molding into a team.
"We get away from everything," Jones said. "This is a moment where we can all come together and it's only football. It's just us up here and it brings us closer, I think. It brings the defensive line closer and it makes us communicate more – it's like a brotherhood."
That collective bond on defense could pay dividends if the Chiefs are to achieve what they believe they're capable of this season.
"You look at the talent we have on defense, I think Coach Reid and [General Manager] Brett Veach brought in [a great] group of guys," Jones said. "Starting with [safety] Eric Berry, [linebacker] Justin Houston, [linebacker] Dee Ford, [defensive tackle] Allen Bailey and just that group. We challenge each other and that's what we like to have around here - people who are going to go [all out] and challenge [each other] every day."