The Kansas City Chiefs are making practice extra enjoyable to cover, thanks to the focus, intensity, attention to detail and my personal favorite, the competitive spirits of the offense and defense. Regardless of the type of drills, 7-on-7, 11-on-11, the motivation to win each and every rep is full-tilt during Chiefs head coach Andy Reid's practices.
Case in point, during Wednesday's OTA, the Chiefs defense erupted with high-fives after Pro Bowl LB Derrick Johnson's pick six of QB Alex Smith.
"We're competing against the offense," Johnson said. "As a defensive guy, you get a chance to get your hands on the ball, you have to make it happen and even better, it was a pick six; so, hopefully, I can save that for game day, that'd be good."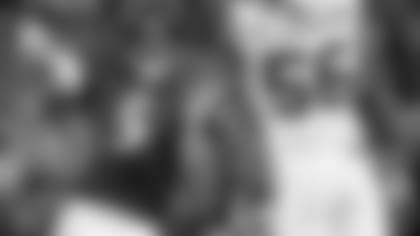 The plays by the defense are credited to the Chiefs players but also to the man behind the schemes, defensive coordinator Bob Sutton.
"Coach Bob Sutton has done a great job with installing the defense," Johnson admitted.
"It's a whole new scheme for us, new terminology and we're picking it up well. As older guys, we're bringing the younger guys along and were leading by example and the defense may be a little ahead of the offense, but that's just how it is when you start out, because the offense has a heck of a lot more plays."
DJ shared what excites him most about this year's defense.
"The attack style that we're doing," Johnson said.
"All the blitzing. Personally, me doing different responsibilities as far as blitzing or covering tight ends here and there, it's testing my skills as a player and it tests everybody on this whole defense to play at a high level and you have to do your job; if you do your job, this defense will work for sure."
Fellow Chiefs LB Tamba Hali echoed the same opinions about coach Sutton's defense.
"These coaches are demanding more, mentally," Hali said. "Some of our players are doing things that they're not used to, but from a team standpoint, it's good, it's beneficial; it helps everybody make plays."
Tamba doesn't necessarily see his defensive role changing a whole lot, but whatever helps the Chiefs improve, he'll do it.
"I have to be a team player," Hali said. "Still do what I love doing, but do what they ask me to do, if that's drop in coverage, I have to continue to do that too, all around."
Regardless of what he and the other Chiefs defenders are asked to do, they can't get enough of this new, attack-style scheme.
"The type of thing that coach Sutton is doing with the entire defense, from cornerbacks to safeties, to linebackers, we're coming, so, we can get a lot of sacks," Hali admitted.
"It doesn't have to just be predicated on Chiefs LB Justin (Houston) and me and some inside guys; everybody has to contribute to putting pressure on the QB."
Not to be outdone, Chiefs QBs Alex Smith, Chase Daniel and the offense also had answers, including long-gain receptions by WRs Mardy Gilyard and Jamar Newsome, among others.
Like Tamba Hali, Alex Smith has noticed the workload the coaching staff is giving the players.
"For me, it's one thing, I like the volume," Smith said.
"I like the amount they're throwing at us during the offseason. I like how much the coaches are demanding of us. It's a great thing. They continue to push us. They expect a lot out of us, everybody. I think it's going to make a difference come the fall."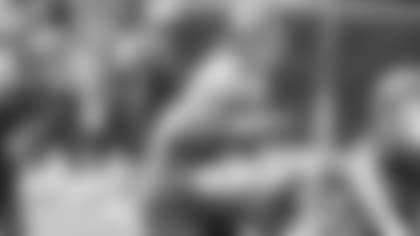 Regardless of which side of the ball makes the most plays during OTAs, coach Reid and his staff will continue to teach, correct and encourage the players, all while identifying where the team excels the most and where its weaknesses are.
"He's going to put his players in places to succeed," Smith said.
"He's not in a cookie cutter offense. Yes it's the West Coast and that's the language we speak, and that is kind of the outline of the offense, but I think ultimately, this is what this time is for. This time is for finding what our strengths are and trying to work on our weaknesses. Ultimately, yeah, come season, it's going to be trying to put us in positions to succeed and as players we go out and make plays. That's the bottom line. I think that's just a part of it."
Chiefs fans can't wait to watch all three phases of this team perform, hoping the end result includes an AFC West division title, and then some.