In the pass-happy NFL we see today, through eight games, the Kansas City Chiefs defense stands alone atop the NFL's best at shutting down the face of the new NFL.
That face, whether by athlete or rule, consists of big offensive plays and a highlight reel focus that is centered on offensive action and playmaking.
The receivers are bigger and stronger, even changing the face of what a tight end is supposed to look like. The rules have been adapted to heavily favor the offense.
Earlier this season, the Chiefs lost one of their leaders, perennial Pro Bowler and one of the best inside linebackers in the NFL, Derrick Johnson, not to mention a starting defensive end in Mike DeVito. Eric Berry, the three-time Pro Bowler, has missed the majority of the first half of the season as well.
All the while, the Chiefs pass defense ranks No. 1 in the NFL by allowing just 199.4 yards per game.
It's not from a lack of competition either.
In three of the eight games for the Chiefs defense, they've faced a quarterback who ranks in the top seven in the NFL in yards passing.
None of those quarterbacks, No. 3 Peyton Manning (242), No. 5 Tom Brady (159) and No. 7 Philip Rivers (205), could throw for over 250 yards against the Chiefs defense. Only the Tennessee Titans' Jake Locker was able to accomplish that when he threw for 266 way back in Week 1.
The best player on this Chiefs defense through the first eight games has been linebacker Justin Houston, who has been terrorizing quarterbacks all season and leads the NFL with 12 sacks.
Houston loves bringing down the quarterback, but when tasked with double, or sometimes even triple-teams if a running back or tight end is tasked with "chipping" him before they go into their receiving route, Houston just takes it in stride.
"I don't get excited about it because my ribs are hurting," Houston explained of the attention. "But I'm pretty sure the guys down field, we talk about it and they say any time I can cause for their guys to chip and slow release, that helps out a lot down field. Any time I can do that and help out the team, I'm all for it."
While sack numbers are always the easiest reflection of an outside linebacker's abilities, Houston isn't satisfied with just being a dominant pass rusher.
"I take pride in everything I do on the field," Houston said. "I want to be the best at everything I do: stopping the run, dropping in coverage and rushing the passer. Any phase, I want to be best guy to do my job."
Houston's work ethic, which has been widely documented as he stays after practice every day to go through a routine of hitting the bags, was developed through watching a veteran teammate.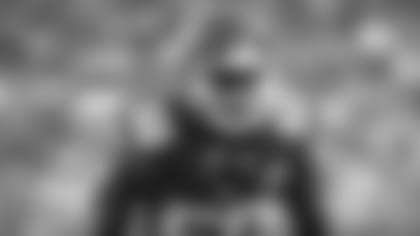 "I just watch Tamba (Hali)," Houston said. "Tamba, he works so hard. The work he's put in, I still don't think I work as hard as he does. He'll be doing work any chance we get a break, he's always working."
He went on to share the pride he feels in being in Kansas City.
"I tell Tamba (Hali) all the time, it was a blessing for me to come here, to have him to watch and learn from," Houston said. "Because most guys, you get to the league, you don't have that. He took me in like a big brother. He taught me the things I need to know. He taught me what I need to do to become a good pass rusher, so I just follow his footsteps and that helps out a lot."
When asked if he feels an obligation to be the same kind of mentor for the Chiefs first-round pick this year, Dee Ford, as Tamba was to him, Houston put it simply.
"I'm there with open arms," Houston said. "Any time he has a question about anything, whether it's dealing with the pass rush or anything with football, I try to help him out as much as I can."
Besides the work ethic, Houston reflects on the details of his development and how his positional coach helped him become an all-around player.
"I was just understanding the game of football and know what run plays they have by learning and studying film," Houston explained. "I think [linebackers] coach [Gary] Gibbs does a great job of breaking down our opponent so it makes it real easy for me to go watch film and see what those guys doing. He helped me understand what they're doing and what formation it would be run out of, so once you see it, I feel it's just a reaction now, so you just do your job."
Even though the Chiefs play on the road this weekend in Buffalo, Houston described the advantage of Arrowhead Stadium and why he is so animated in getting the fans on their feet on third down.
"If you're on the field, you would notice that when the crowd gets involved, the tackles, they don't look at you, they're looking at the ball," Houston said. "They have to see when the ball is snapped. They can't hear the snap count, so any time that I can get the crowd involved, that helps me out a lot with my sacks. If the tackle is looking at the ball instead of me, I have a good chance to get back there with my get-off, so that helps out a lot."
Houston said he can feel the crowd's energy when he's getting close to the quarterback.
"I don't think there's anything better," Houston said with a smile. "You hear the crowd roaring up when they see you're getting close. That's a great feeling. It's just knowing that we're doing our job. Not just me, my guys down field doing a great job covering and the other guys doing a great job rushing up field so it's a team effort."
Led by Houston, the Chiefs defense sits tied for third in the NFL in sacks with 28.
Beyond sack numbers and yards passing against, the defense is also ranked second in the NFL in scoring, allowing just 17.2 points per game.
"They work well together; I think is what you'd say," Chiefs coach Andy Reid said of the defense this season. "They have good communication. Every week is a new challenge. They haven't gotten caught up in all those stats, which really don't mean much every week. They put that aside, they've studied the game plan and learned it inside out. They take a lot of pride in their job."
The players might not get caught up in the stats, but they've been really good through the first eight games.
In two of the most important statistical areas on either side of the ball, third-down conversions and red-zone efficiency, the Chiefs defense is excelling in both.
On third down, the defense is allowing just 33 percent conversions, which ranks third in the NFL, and in the red zone, they're only touchdowns on just 50 percent of drives, which ties them for fourth best in the NFL.
Much of this success is because of the guys who have stepped in and played after significant injuries.
"We've had a lot of nicks and knacks and injuries and we kind of haven't lost a beat because of the way the guys have stepped in and accepted their role," Chiefs defensive coordinator Bob Sutton said. "The position coaches have done a great job of preparing them and I think that's a big part of it. I think a lot of it goes back to depth. The [second team guys] before these injuries occurred, they did a great job preparing.
"That's one of the hard things in the NFL to understand because once you get out of training camp, there are not many reps for the second team so they've got to really do a great job staying into the game plan, getting a lot of mental reps. Those guys that went in and did that, they've done a fabulous job. A guy like Ron Parker has played all over the place and has done a super job for us."
While the players have done a great job of preparing themselves to play, whether initially as a starter or backup, the depth of the team, based on the job John Dorsey has done as general manager, has been put in the spotlight after all of the injuries. It's given an opportunity to show how well this organization is running from the player personnel side to coaching and development.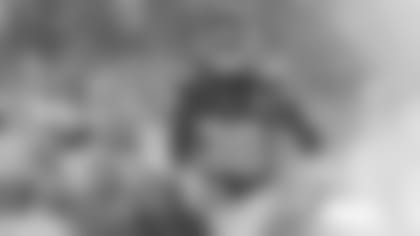 Ron Parker, the fourth year defensive back out of Newberry College, has played all over the defensive backfield for the Chiefs this season.
"You're really never too deep at every spot as far as nickel, dime, all that, so somebody's got to be a swing guy and learn it," Sutton explained of Parker and others. "We have a lot of guys that have done what [rookie] Phillip Gaines has done. [He's a] young guy who has come in and done a great job, played nickel when Chris Owens went down, he's played out of the corner spot. Husain (Abdullah) has been up front as a dime and back in the secondary as a safety.
"Ron Parker has played corner, safety he's actually had a couple snaps at nickel and done a real good job. Of course, (Josh) Mauga, he was kind of a backup at all positions and now he's a guy that doesn't leave the field. I'm really proud of the effort that these guys did to prepare themselves for this opportunity."
One player who has really stepped up this season for the Chiefs is cornerback Sean Smith, who Reid praised for the way he's gone about his business this season.
"It's his work ethic and how he's approached things," Reid said of the success Smith has had this year. "He comes to work every day. He's been banged up a little bit, and he's been able to work through that. He doesn't let that slow him down. He's obviously here every day and in this profession, you're going to have nicks and bruises and things that don't feel so good. He makes sure he gets out here and works and works through that and gets his game right."
Maybe the biggest difference for the Chiefs defense this season has been the lack of big plays from opposing offenses, which Reid said is a collaboration of everyone doing their jobs.
The Chiefs defense has only allowed 20 completions of 20 yards or more this season, which ranks fourth in the NFL. It's an improvement over last year, where the Chiefs ranked 30th in the NFL in that category by giving up 63 completions of 20 or more yards.
"[Defensive backs coach] Emmitt [Thomas] and Bob [Sutton] work hard to put guys in positions where they can utilize their talents," Reid said. "We all have strengths and we all have weaknesses. We want to exploit your strengths and work on getting you better at the things you're maybe not as good at. I think between that combination, the guys are little bit more well-rounded in the defense that way."
Along the defensive line, the Chiefs are led by Pro Bowl nose tackle Dontari Poe, whose presence in the middle of the defense makes a lot of things possible.
Sutton has done a nice job of rotating the defensive linemen in hopes of keeping them fresh throughout the season. Allen Bailey, Jaye Howard, Vance Walker and Kevin Vickerson join Poe in that rotation, which has provided the interior disruption to allow Houston to get those sacks and the defensive backs to break up passes down the field.
It's truly been a team effort for the Chiefs defense this season, and it's one that we hope continues to shine as we get the second half of the season underway in Buffalo on Sunday.
A look at the starting roster for the Buffalo Bills