"It helps brighten the kids' day," child life specialist Andrea Smith explained. "They're here because they don't feel good. They don't always want to be here, so having something to look forward to helps them get through whatever they're going through."
On Tuesday, safety Husain Abdullah, cornerback Phillip Gaines and some of the other defensive backs of the Chiefs took time out of their day to visit with the children, hand out "Be Bold. Be Brave. Be Berry." posters and sign autographs.
Abdullah, a father himself, explained that visits like this always help to put things in perspective.
"It's a very humbling experience," he said. "Me having three children of my own and to be able to come see children who have a battle that they're going through."
He continued on, detailing a bit about Tuesday's experience.
"Just to be able to come and give them an escape a little bit, whether we're talking about football, the Lego movie, video games or a book about a guy chasing mummies, to be able to be in there and spend time with them, it's a blessing."
Gaines also weighed in on what the experience meant to him.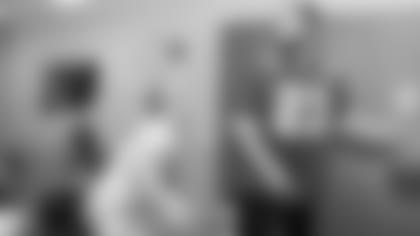 "It definitely means a lot," he said. "As football players, we're always worried about our health and just trying to get through the season, but these kids are fighting for their life and when you come in here and get to see this type of stuff, it really takes you back."
Smith helped to describe the other side of it—the difference between an ordinary day for the children and one in which the Chiefs visit.
"They get real excited. I see smiles when I haven't seen smiles for days and I have kids that are following players up and down the hall."
---
The Chiefs are currently in the midst of Phase One of the offseason program.
The Kansas City Chiefs defensive backs visited 15-20 youth at The University of Kansas Hospital Pediatric Unit. The players went room to room, signing autographs and brightening their day.