A handful of the Kansas City Chiefs' defensive backs embraced their artistic side on Tuesday as the players joined Girl Scouts from nearby Guadalupe Elementary School for an art workshop in honor of Hispanic Heritage Month.
Defensive backs Eric Berry, Kendall Fuller, Jordan Lucas, Tremon Smith, Charvarius Ward and Armani Watts were all on hand for the event, which took place at Arrowhead Stadium under the direction of local artist José Faus.
Faus, whose art is featured in the Arrowhead Art Collection, instructed the group to use overlapping shapes and a combination of colors to create pieces of art unique to them.
From the kids to the players, creativity soon ensued.
"Mine was pretty bad at first," Smith said laughingly. "I got better as the day went on though. [The kids] helped me out and I got better as I drew."
Varying artistic talents aside, the workshop existed as an opportunity for the players to forge lasting memories with young people in the community.
"These kinds of things are always good," Fuller said. "I know a lot of people always think it's [hard for us] to come out with our busy schedules, but I think most of us probably have our most fun coming out here and doing stuff like this. We really enjoy it."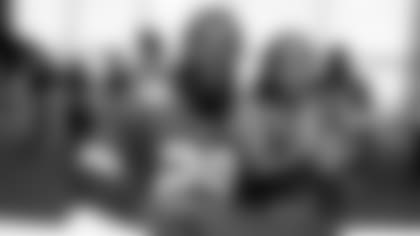 That seemed to be the case for all of the players in attendance, who each had their own reasons for sharing their time with the kids on Tuesday.
"I have a younger brother who's autistic, and I've been very hands on with him ever since I was young," Lucas said. "Just seeing the impact that we can have with kids – just talking with them, making them laugh and getting them out of their shell – is huge. A lot of kids are shy, and you'd be surprised what spending a little time with them can do. I know that if I was a little kid and somebody in my position came and spent time with me, I'd be smiling ear to ear."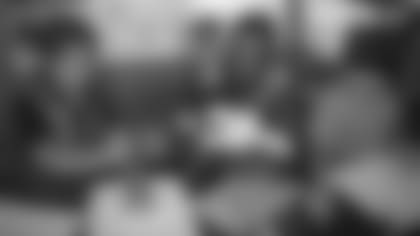 "Anytime somebody is happy to see me, like 'You play for the Chiefs, I watch you on TV,' it always makes me smile," Smith added. "I just want to be as inspirational as possible."
The players certainly provided that inspiration during the workshop, as they were laughing and joking around with the kids throughout the entirety of the event.
"I think it's just a nice validation for the kids to be the center of attention. They're over here and it's all about them. You don't have to say it directly, but they can sense that they're the stars," Faus said. "It's nice to see how open the players were to the kids coming up and asking them questions. They were very open and giving, and I think the kids loved that."
And in the process, the players may have even helped motivate a future artist or two.
"Some of the kids were really enthusiastic - one of the little girls even looked at me and asked if she could hang her drawing on the wall," Faus explained. "That's because they went around and looked at the art that was here."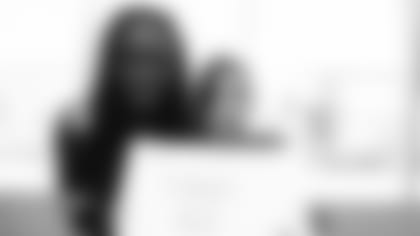 Established in 2012, the Arrowhead Art Collection exists as a celebration of regional art while engaging with the community in a way that touches individuals of all ages and walks of life.
"They have one of my pieces here, so I'll always be grateful, but I enjoy a lot of the artists that are on this wall," Faus said. "It's not like anybody came out and said that we could only paint certain things - they took what the artists had already done. I think that's a really good thing because it validates their work and the processes that they go through."
It was the ideal setting for what wrapped into a fun afternoon all around.
"It just feels good to give back," Lucas said. "We were there once, so when you think about it like that, this is the stuff that you really want to do."
To learn more about the Arrowhead Art Collection, click here.
To celebrate Hispanic Heritage Month, Chiefs Defensive Backs attend a workshop with José Faus and girl scouts from Guadeloupe Elementary