The Kansas City Chiefs were back at the University of Kansas Health System on Wednesday as defensive backs Kendall Fuller, Steve Nelson, Eric Murray, Leon McQuay and Jordan Sterns visited the hospital's pediatric and trauma wings in an effort to lift some spirits.
The players went room-to-room surprising patients, taking photos and signing autographs all the while inducing plenty of smiles along the way.
"We're just going around room-to-room, checking in on the kids here and meeting their families," Nelson said. "People feed off of the energy. We just want to show them some love."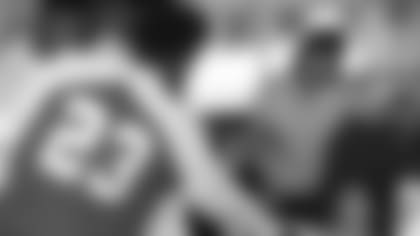 The visit exemplified the players' commitment to being there for their fans – especially those going through a tough time in their lives.
"It makes me feel just as good as it makes them feel," Nelson said. "I know a lot of these people don't get that many visitors, so just spending time with them is special."
"It's important to me because I have a lot of sick people in my family," Nelson explained. "My grandmother has diabetes and my cousin just passed away from cancer last season, so I feel like just coming and showing these people some support is everything."
That support was certainly felt on Wednesday.
"Being new (to Kansas City), it's great to get out and meet people and to see how genuine everyone is." Fuller said. "It just means a lot to bring a smile to their face."
The Chiefs Community Caring Team, led by the Chiefs defensive backs, will visit The University of Kansas Hospital to go room to room to sign autographs and share hope to those fighting medical battles.