The Ronald McDonald House of Kansas City serves as a safe haven for those dealing with the most difficult of times, providing a place to stay for more than 80 families with children in the hospital on any given night.
The organization exists to keep families together in midst of challenging circumstances while providing a sense of normalcy for the thousands of kids that they welcome through their doors annually – a mission that the Kansas City Chiefs joined once again this week.
Five members of the defensive line – Allen Bailey, Justin Hamilton, Jarvis Jenkins, Derrick Nnadi and Xavier Williams – lent their time to that effort on Tuesday, as the players spent their day off from practice by competing in a series of "Minute to Win It" games with families staying at the facility.
"Anytime you can get out in the community and work with some kids, it's something you want to do," Williams said. "There's no greater feeling than being out here with some kids and seeing the smiles on their faces."
There was a water balloon toss, an egg-and-spoon race and even a pie-eating competition to wrap things up at the end.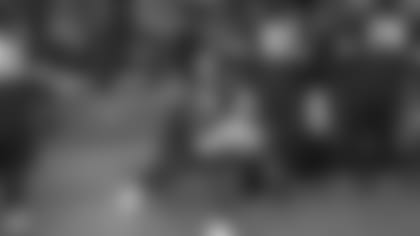 The final game pitted Nnadi against Jenkins with the goal of finding a piece of candy hidden in the pie – an event that Nnadi proudly won.
"The score was tied and we needed the win," Nnadi explained. "As a big dude, I knew they were going to make fun of me because this involved food, so as soon as I went headfirst into the pie, I just scanned [for the candy] as fast as I could. As soon as I felt it, I just grabbed it and I knew I won."
Following the activities, the players stuck around to sign some autographs, take pictures and talk about the upcoming season with the families in attendance.
It all wrapped up into the kind of afternoon that allowed each kid to simply be themselves.
"This is an escape for our families. It's an escape from reality - from childhood illness, chemo, waiting rooms and surgery. It's about fun, laughter and just being a kid again. We love being able to offer that, and we couldn't do it without our friends at the Chiefs," said Tami Greenberg, CEO of Ronald McDonald House Charities of Kansas City. "It actually might be hard to tell who had more fun today – our kids or our Chiefs' players."
That feeling of excitement was certainly shared by the players, who were laughing and smiling throughout the entirety of the event.
"Man, I had a blast…the best part of this was just hanging out with the kids," Nnadi said. "As a little kid, I didn't really have this type of thing growing up – guys like us that would just come and hang out. You can tell that it really means a lot to them."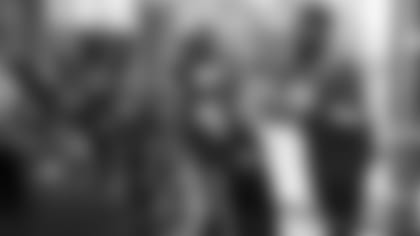 The visit helped kick off a string of festivities leading up to Red Friday, which will celebrate the beginning of another football season in Kansas City on Sept. 7. It's a tradition that's taken place in each of the past 27 years, and one that Williams, a Kansas City native, is now experiencing as a member of his childhood team.
"It's amazing. You know the kind of impact Red Friday has on the community and how big of a deal it is, so it's fun to finally be on this side of it," Williams said. "It's a dream come true. I was a little kid once looking up to the guys wearing this uniform, so it's cool to be on this side of it."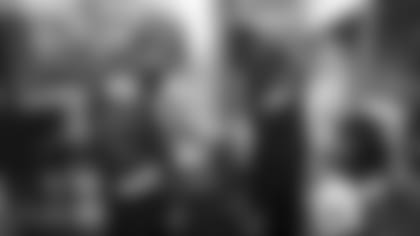 And it's not just about fostering excitement for the upcoming campaign, as Red Friday annually benefits those in need.
Fans can purchase special-edition "Kingdom" flags for $5 at Kansas City and St. Joseph area McDonald's locations on Friday with proceeds benefiting Ronald McDonald House Charities of Kansas City.
The initiative raised $338,000 last year and will aid the non-profit's mission of supporting local families facing difficult times.
"This is such a great way to be a part of something special in Kansas City," Greenberg said. "It's about the team, the community and families with sick kids. I sometimes say it's a trifecta – it's all these causes rolled into one – and with just $5, you can get a flag. Those dollars add up to have an enormous impact on families with seriously ill kids right here in Kansas City."
To learn more about Red Friday and how to purchase a flag, click here.
The defensive line visits the Ronald McDonald House