They suited up in extensive gear from head to toe, keen on learning the basics of one of this community's most-demanding professions. This wasn't a game day for Kansas City Chiefs' defensive tackles Derrick Nnadi and Joey Ivie. In many ways, this experience was far more intense.
It was all part of the Chiefs' visit to the Independence Fire Department on Tuesday, which provided the players with a chance to go through a series of training exercises while recognizing our first responders for all that they do.
"I'm glad I play football, because this is way worse," Nnadi said. "They go through a lot – the training is tough enough as it is. They're brave individuals to be doing this, because they're always on the go – day or night – waiting for a call. They're there to help anybody in need."
Nnadi and Ivie – while wearing more than 150 pounds of equipment - climbed several flights of stairs at the Department's training tower, learned how to use the fire hose and even ascended high in the air on the firetruck's cherry picker.
It was an exciting – yet demanding – afternoon as the players learned what firefighters go through on a daily basis.
"Just getting the gear on itself was a challenge. I broke a sweat just doing that," Nnadi said laughingly. "It was a journey."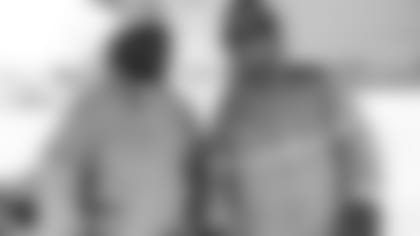 The visit was also meant to honor all those that lost their lives 18 years ago during the September 11, 2001 terrorist attacks. Among those killed in the attacks were 400 first responders who chose to put themselves in danger in order to help others.
The players presented the department with a game ball in remembrance of that sacrifice. 
"That was great, and every one of my guys that was out here today truly appreciates that," said Douglas Short, Fire Chief for the City of Independence. "While we may not have been directly involved in what happened on September 11, the fire service is a brotherhood and a sisterhood, so that's important to all of us."
"There aren't even words to describe all the people that were lost that day, and the first responders went out there without any hesitation," Nnadi added. "They went in full-force to try and keep people safe. They're not looking for any credit, it's just part of the job."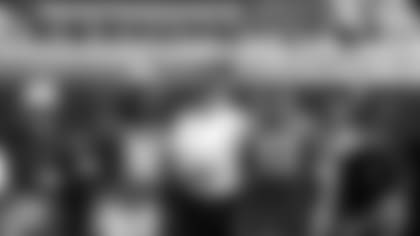 Both players received a glimpse into the physical and mental demands of that job on Tuesday, resulting in an off-day from practice well-spent.
"This entire day was one to remember," Nnadi said. "'I'll never forget this."
The Chiefs Defensive Line visit the Independence Fire Department Training Tower to recognize first responders. The D-Line compete in "firefighter games" to test their abilities against the first responders and also participate in a gear exchange.