According to Kansas City Chiefs general manager John Dorsey, there were four or five spots up for grabs before Thursday night's preseason game against the St. Louis Rams.
With a roster full of talent from top to bottom, Dorsey and his crew can pat themselves on the back for the job they did to bring in all of this talent.
But it undoubtedly makes the next 24 to 48 hours much more difficult on everyone involved.
There are 22 players currently on the Chiefs roster who won't still be there by Saturday at 3:00 p.m. CT, as that's the deadline for all NFL teams to trim their rosters to 53 players.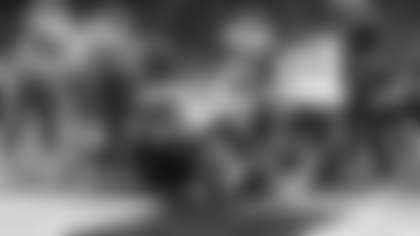 "We tell the guys the first day at training camp, 'Make this as hard as you can on [John Dorsey] and myself,'" Chiefs coach Andy Reid noted. "That's what they've done. They've given everything they have and Dorsey and his crew have done a phenomenal job at bringing that competition in here.
"My hat's off to that crew. They're the ones out there beating the bushes and making sure they use all of the different avenues they've got to bring players and create good competition. They've done a very good job."
That depth of talent is a main reason the Chiefs finished the preseason with an undefeated 4-0 record, and even though these games don't count on the final scorecard, Reid isn't shying away from believing it's a positive step forward.
"It is a win in America," Reid said. "You play to win. If it is ping-pong or a hot dog eating contest, you play to win. That is how you go about this business. You'd rather have it this way than the other way.  
"It is preseason and we understand that, and now we are going to get ourselves ready for a good Houston team. That's the next step."
Before they can move on to Houston for that Week 1 contest on Sunday, September 13, Reid and his staff must first figure out who the 53 players that'll head down to take on the Texans will be.
Reid explained a little bit of the process they'll go through over the next 24 to 48 hours in order to figure that out.
"We will meet [Friday] afternoon and evaluate them as a coaching staff," Reid said. "Dorsey will first meet with his guys and then he'll come into the coaches meeting. Then he goes back and puts together what he wants and comes up with a team.
"Those are the guys who will be with us and we'll roll with it."
Photos from the Chiefs fourth preseason game against the St. Louis Rams