A group of Chiefs fans, passionate about this team, have organized a movement to reclaim the Guinness World Record of loudest crowd roar at a sports stadium by shattering the current record set at 137.6 decibels.
On September 29, the Chiefs will be on a national stage when they take on the Patriots during Monday Night Football and what a great time to attempt to claim the world record.
"Our fans are what make Arrowhead special. Monday Night Football offers them a unique opportunity to celebrate and come together on the national stage," Chiefs President Mark Donovan said. "From the entire stadium singing the National Anthem, to cheering for a Guinness World Record, to honoring our Armed Forces, we will unite to highlight what is great about our team, Kansas City and the entire Chiefs Kingdom."
Monday night at Arrowhead Stadium is set to be an incredible experience from the game day production to the fireworks to the loud, ground-shaking atmosphere.
Chiefs fans held the record for the loudest stadium at 137.5 decibels in 2013 for seven weeks, but the Seattle Seahawks reclaimed the mark at 137.6 decibels.
Five fans, who organized this initiative last season, have come together once again to encourage all fans to be loud and to be proud of their Chiefs. The group hopes this initiative will unite fans and restore Arrowhead's reputation as the loudest stadium in the NFL.
"Arrowhead Stadium is near and dear to all of our hearts and we want to reclaim it's reputation," Connie Jo, one of the group members, noted. "Reclaiming the Guinness World Record is very meaningful and gives all of us a strong sense of pride. It's a rare way that we as fans have an opportunity to make franchise history."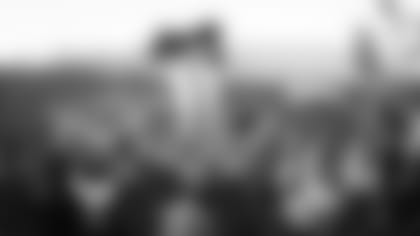 It will all take place on Monday night as the Chiefs battle the Patriots under the bright lights of a national audience. Kickoff is 7:30 p.m. CST and will be featured on ESPN.
"We want to stake our claim as the loudest and proudest fan base in the world and a stadium feared by all teams in the NFL," Tim VanderPol, a group member, said. "Arrowhead Stadium will be loud on Monday night and we're excited to reclaim that record."