The day was November 15, 2004.
That was ten years ago on Saturday, a day for my family that many can understand and relate, but one that nobody wanted to experience.
That was the day my father, Bill Kissel, passed away after his battle with cancer.
This isn't your typical news story at kcchiefs.com.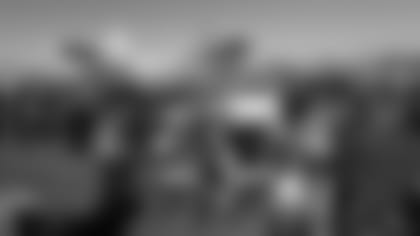 When I think back to my fondest memories growing up with my dad, there are a few things that always stand out.
He and my mother rarely, if ever, missed a baseball game I was playing in as a kid. Whether it was a little league game at Miller's Woods (it will always be Miller's Woods, sorry), the one season I played at the University of Central Missouri or my three years pitching at Kansas State, they were always there.
But the other constant was always the Chiefs and Arrowhead Stadium.
We had season tickets when I was a kid, and that was something my dad and I shared. It was our thing.
Listening to the T.D. Pack Band, home of the CHIEFS, flyovers (we have one Sunday!), doing 'The Chop' in the roundabouts on the way out, I will never forget those moments.
Even now, every time I walk into Arrowhead I get the same feeling I did back then.
My dad and I were kind enough to let my mom and sister go to the preseason games if they wanted to see a game. But year after year, we'd reside in section 338 for each regular season home game.
Just like many Chiefs fans, we had a routine on game day.
We took the same route to the stadium every game, stopped at the same McDonald's for breakfast and ordered the same thing, listened to the pregame show and talked about the opponent.
It was comfortable, it was routine and it wasn't until I became much older that I realized how much those feelings of "home" would ultimately affect the way in which I'd support my own family one day.
---
My degree from K-State (2006) was in Electronic Journalism and my original goal was to be a baseball television analyst.
My collegiate baseball career was over and I wanted to use my degree to talk sports for a living, and I figured baseball would be the easiest option.
Fast forward several years and the baseball broadcaster thing never happened, but I had begun to use my degree to write about sports, the Chiefs specifically.
Throughout this whole time, the routine of watching the Chiefs every Sunday didn't change.
The writing started out as a hobby, a way to interact with other fans and facilitate discussions with people who had a similar passion for their team as I did.
At the time, although journalism was my degree, I had followed a path of full-time jobs that didn't lead me to writing about football for a living—yet.
I was writing about the Chiefs because they were my team, grown from a passion developed by the time I spent with my dad as a kid watching, talking and living all things Chiefs at Arrowhead Stadium.
That passion manifested itself into years of writing as an unpaid hobby. It never felt like work, but for some reason it always felt comfortable. As someone who was much better at baseball, the passion for football had an origination.
All those hours writing on the side helped lead me to this job, working at One Arrowhead Drive every day.
But I've realized it wasn't the work I put in over the past several years that led me here, but a path laid out long before I could fully comprehend the reason for my connection to this team and that stadium.
I not only understand how lucky I am to do what I love, but I also understand the journey it took to get here and where it all started—the same place the passion started for tens of thousands of other Chiefs fans—being at Arrowhead Stadium with family.
My father helped instill a passion for the Chiefs in me that led me to supporting my family by doing the same things I did with him every Sunday growing up—watching, talking and cheering the Chiefs at Arrowhead.
It may be ten years now he's been gone, but the memory of my father is with me every day I come to work and every Sunday I'm at the stadium.
In my family, Chiefs football and Arrowhead Stadium have been a tradition and one that won't stop when my son arrives in February. I know many fans have similar stories, and I'd love to hear them in the comment section below.