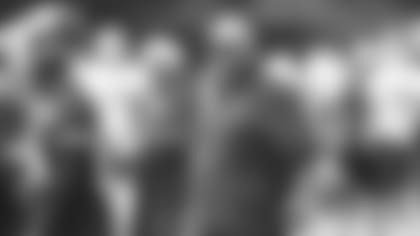 On the fan support:"Good first day (with pads). Listen, the fans were unbelievable. We were a record for here, for having the most number of fans that they've had up here in St. Joe. So we appreciate them and they kind of push you through that first day in pads when you get a little tired those last couple of periods, those fans get you going and you roll, so we appreciate that."
On the on-field competition:"I thought the execution went back and forth—offense [and] defense—there were some good snaps both ways and that's what you're looking for. You're looking for competition. We had the ones going against the ones today. I just thought it was a good tempo and good challenge in them. Good competition."
On CB Sean Smith and the cornerback position: "We look at Sean (Smith) as a first-team player so we need all those guys and so we need two deep at the corner where we feel like that two deep is equivalent to starting players. That's what we're looking for."
On LB Nico Johnson's performance thus far:"Nico (Johnson) is making improvement. He came back in phenomenal shape and he's a big guy so you're looking at a big, strong linebacker and right now he's better against the run than he is the pass but he's working like crazy on the pass and you could see the strides that he's made over the last year. It's a good thing right here."
On C Rodney Hudson's performance thus far: "Rodney (Hudson) just gives you complete confidence that everything's taken care of in there. Not only is he telling the guys when they need to pick up the pace, he's also coaching them up on any transition that takes place with the defense."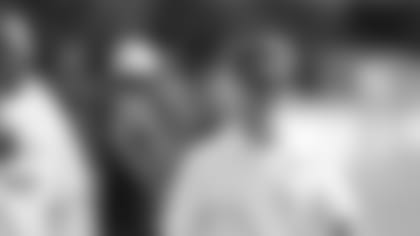 On what he saw today at #ChiefsCamp:"It's great to be back in camp and the thing that struck me today and yesterday watching practice is that you can tell we are in the second year with Andy (Reid) and his coaching staff. Even though half the team is new, a lot of guys know the drill, and like last year I'm always impressed when Andy's running a practice by how efficient it is. There's no wasted time, guys are running between drills [and it's] very well organized. So I think it was a great day for us."
On what he is looking for at practice:  "Like any fan, it's fun to watch the players play and compete against each other and I think that's one of the things we saw today was a lot of great competition. But I also keep an eye on the coaching staff and really the rest of the football support staff and how they're doing their job. And as we've gone from regime to regime, you can see differences, and I think Andy's camps are among the best I've ever seen." On seeing the large crowd come out today:"That's one of the great things about having training camp close to Kansas City is that our fans can get up here. When we were in River Falls, we had a lot of fans make the trip, but I don't think we ever had 6,200 fans out, 100 percent of whom are Chiefs fans cheering the guys on. I think you heard Andy say how much he appreciates the fans and the lift that they give players when they're here and the guys are out there practicing so that's all a very big positive."