Bob Sutton On potentially seeing LBs Dee Ford, Tamba Hali and Justin Houston on the field at the same time:"Right now, we're just putting in a basic defense, both base and sub, so we haven't gotten to any of the big personnel groupings [yet]. But I'm sure at some point we're going to have all those guys out there. From the past, one of the things we do is anytime you have a unique skill, whether it's cover, rush [or] whatever, we're going to try to find a way to use that, whether we have to create a little personnel group to do that or whatever, we're going to attempt to do that. So I'm sure down the road we're going to try to figure out a way to get all those guys on the field."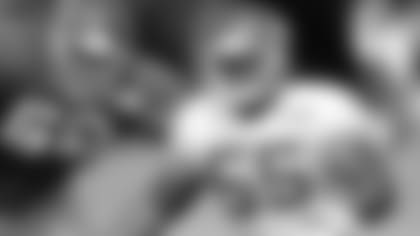 On what he's seen so far out of LB Dee Ford:"Dee's done a good job here. Obviously, we've talked a lot about his pass rush but the thing he's done out here for the last couple days I thought that has been really impressive [is] he's been a guy that has set the edge in the running game and that's the key part of it if you're going to play on all downs. So, he does that and he has a very good first step. I think he's got to learn how to be a rusher in this league, but he has some innate ability and traits that allow him to do it."
On the value of LB Derrick Johnson:"DJ is a very good football player, an outstanding football player. He has a unique skill set. He has great range and great speed for a linebacker, which allows us to do a lot of things. Anytime you have speed, a lot of times, the things that go unnoticed are the plays you prevent. Sometimes a five-yard gain stays at five because you have the speed to be over there and secure a tackle. Sometimes it's a ten-yard gain that stays a ten."
On the competition at the linebacker position: "One of the things we're trying to do here is one, we're trying to develop competition, and competition is a great plus for us. So, I think the competition at the inside-outsider linebacker is very good—the way it's stacking up right now. So, as you saw today, we're going to roll guys through there and try to get everybody a look in there. And we've talked to everybody about it. If you're running out there with the first group, you better be pushing because there's somebody right behind you."
On what stands out about S Malcom Bronson: "Now is the first time he's really played for us, obviously. He was essentially a red shirt guy last year because of medical reasons and didn't play, so he's just getting his chance to play. He's going to be a work-in-progress but he's done a good job learning the defense when he wasn't playing and now it's got to be the ability to make all those decisions and adjustments on the move when he's out there. A lot of reps is what Malcom is going to need."
On RB De'Anthony Thomas' qualities that make him a good returner:"His burst, his ability to make the first person miss—he's got that. The same thing that Devin Hester had. The thing that we need to work on with him right now is his catching and his ball reads. You'll see him in practice occasionally have to run late to make a catch and it's just a matter of him seeing the ball where it's going to be and have the ball chase him and him not chase the ball."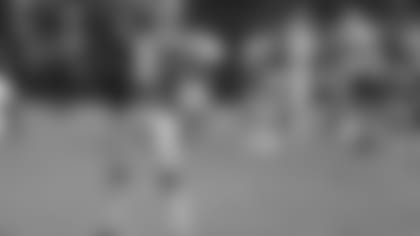 On which players caught his attention in pads: "[Albert] Wilson looked really good as a punt returner. He caught it, [showed] great burst, he runs hard, catching the ball effortlessly as far as a punt goes—that's a hard thing to do when you have a punt team coming down on you."
On K Cairo Santos and the kicking competition: "Every year we try to bring at least one—whether it's a punter, a long snapper or a kicker, every year we try to bring a guy in to try to push the guys that are here and we certainly have one with Cairo. I said this before, I think he's a NFL-caliber kicker [and] I think he's going to be in the NFL whether it's on our team or another team, so the competition is real and we're excited about Cairo and what he's able to bring."
The team working hard on Sunday at training camp.