On practice today: "We had some good work today. We got to work a little bit of two-minute today live and the guys I thought did a nice job. It was 1-offense versus 2-defense and then we flopped over and went 1-defense versus 2-offense and the threes went against threes. And [we got] about ten plus snaps with each group so, it was good work there and we'll try to do that. We'll try to break down the situations as we go and by the time we get to game time, we should have them all in."
On kickers Cairo Santos and Ryan Succop: "They're challenging each other. Both of them are good kickers. Today it was a tie. I told them it was like the World Cup. Play for an hour and then they tied. Still exciting though to watch, right?"
On engraining the mentality of finishing on the team: "We talked about it. You hear the guys mentioning it on the field and they're working hard. It's not just finish a series or a game. It's finish every down the right way. Not that every play is going to be a perfect play, but you give it your best shot, right? And then you get back and do the same thing and you keep your attention to detail throughout this practice. These are long, man, and so you keep your focus and your attention to detail and your intensity level up and then you rest when it's over."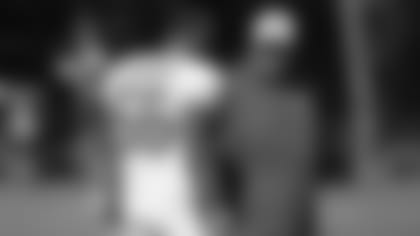 On what fellow LB Joe Mays is bringing to the team: "Joe (Mays) brings communication to the game [and] physicality to the game. He's a really smart player. I know, being in this league ten years, [that] change is evident. So, every year, there's going to be change. We don't control what goes on upstairs, so when a new guy comes in, old or new, we got to get him acclimated to the system."
On how knowing there is a day off tomorrow impacts him today: "It gets you through, it gets you through. Today I was feeling my age a little bit early in practice. Then I got through. It's one of those things where it doesn't matter what motivates you during this time. You want to see results out there on the field. Everybody's getting evaluated. So whatever motivates you, that's my mind frame every year [and] every day."
On how much longer he wants to play football: "It hasn't crossed my mind. I've been very fortunate and blessed to not have a major injury. So, every year when I go back to work out with Jamaal (Charles) and all these guys, these guys are young, so, if I can keep up with these guys, I can come back."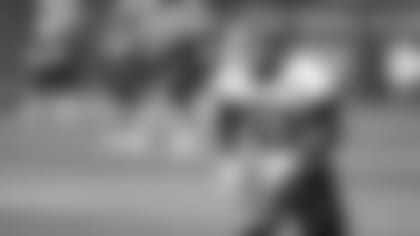 On how he will utilize the upcoming day off: "I think I'm going to just try to relax. [I will] get off my feet, definitely hit the cold tub [and] try to spend as much time with my family as I can."
On playing with fellow LB Derrick Johnson: "It's been great so far. Just me being able to pick his brain, seeing what he sees on the field, talking with him [and] communicating with him, it's been great. And he's just a big time playmaker. And now, I'm trying to pick his brain so I could get a chance to be where he's at—do the things that he does on the field and also bring my style of play to the team as well."
On the defense's personality coming into this season: "Hungry. I knew that they were going to be that way, especially [with] how they lost the game last year—the playoff game. So I knew they were going to be hungry and it's contagious, man. They brought that out here on the field and now [with] me being a part of it, I feel like I was a part of that team last year. Now, I'm hungry as well. I want to come out. I want to be great. They want to be great, so lets do it together."