On what he has seen so far from WR Albert Wilson: "We've had him all the way back to rookie camp so he's been in our system now for a few months and he's a smart kid so he picks up the terminology really well and he understands how to play the game. And with being smart and understanding how to play, you could see he's been making plays on the field and it's been a good addition."
On what the coaching staff saw last year in WR Frankie Hammond Jr. to keep him around: "Frankie is a smart kid. He's sharp. He's very athletic. One thing we noticed this offseason is he got bigger [and] more physical at the line of scrimmage. And again, he showed enough last year running the service team and the look teams to say 'Hey, there's a guy we can develop and bring him along.' [He's a] young, talented receiver who has an upside."
On whether he holds his breath when RB Jamaal Charles gets tackled during training camp: "No. Listen, it's a physical game and we got to get Jamaal (Charles) ready to play and he has got to understand he's going to get hit in some of these live periods and we don't keep him in there that long. Obviously, as coaches, we're smart about that but we got to get him ready to go because [during] this preseason game, he's going to get hit."
On RB De'Anthony Thomas' play so far: "He's really worked at learning an offense. He was only here for six practices and the OTAs and then he was gone most of the time but he's put in the time, he's studied our offense [and we] give him plays he understands. We're not going to throw the whole book at him obviously, but use his skill set [and] use his talent and let him go play football."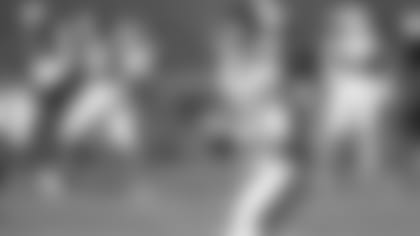 On what he has thought of RB De'Anthony Thomas: "I think he's done a great job coming in [during] the limited time [he's had]. It was a tough offseason for him. It was hard with really only having a few days. He's done a nice job coming in. We ask a lot of him—moving him around and doing a lot of different things with him so, it was fun today to get to see him in live ball [and] make some plays."
On the biggest thing he's seeing out of wide receivers AJ Jenkins and Kyle Williams: "I think they've both had a great camp so far. Both had a good offseason. You're talking about two guys with a ton of speed and ability, and [they're] making a lot of good use out of it. So, honestly, our whole receiver crew I think has done an excellent job. I think [they] had a great offseason and has kept it going in camp here with the pads on. Those guys come out and battle every single day."
On whether he has chemistry with Jenkins and Williams because of previous time with them: "Yeah, in a sense in that you get to know their body language, you get comfortable seeing what their doing and having that history with them, especially Kyle (Williams), playing a few years there (in San Francisco) with him."
On how the offense feels: "It's tough to even summarize. We're still in early camp here so I'm not even thinking about that. Coaches have thrown a lot at us, as far as installations go and volume, and I think guys have done a great job handling it. As the days go here, [around] week two things start to compound a lot. So it will be important for guys to stay in it [and] stay in the details."