Over the past few days, the league has seen an aggressive approach from new Kansas City Chiefs' general manager Brett Veach, who has made two trades to acquire former high picks from the 2015 NFL Draft in linebacker Reggie Ragland, and offensive lineman Cam Erving.
Ragland was a second-round pick (No. 41 overall) of the Buffalo Bills out of Alabama, while Erving was a first-round pick (No. 19 overall) of the Cleveland Browns out of Florida State.
Both players have high upside and plenty of time left as things are currently structured to work with these coaches to develop and reach their potential.
Earlier this week, Veach sat down for an exclusive interview to break down how he and his staff evaluate players from other teams during the preseason, and the process the Chiefs will go through to establish their 53-man roster by Saturday afternoon.
"We break it up where certain scouts are required to watch certain divisions, and they tag players who have stood out," Veach explained of how he and his staff cover all of the other 31 NFL teams during the preseason. "As soon as preseason starts, we're attacking the tape on these other teams. You're doing the best you can to figure out where their strengths and weaknesses are, where they have depth, where they might be able to move from a position, and you try to find natural trading partners.
"So, from the time preseason starts, we're communicating with all teams. We're trying to keep an open-door policy in regards to where we are, where they are, exchange information, and try to be honest."
It's not a blind guess as far as who they speak with either—there are calculated reasons that all teams use to get information from one another—not just the Chiefs.
"We do a good job projecting rosters based on what teams have done in the past," Veach explained. "If a team has had the same coach and/or general manager for a number of years, you look at their historical trends. If they usually keep eight offensive linemen and have 11 who are really good, then you reach out to those teams.
"You don't ask specifically for players, but you ask what they're thinking and who may be available."
The scouts will also look at projected starters and key contributors, recent top draft picks, contract status' and so forth, so they put together a list of "bubble" guys for the other NFL teams who have flashed something in the preseason. Those players are tagged.
In this way, there's not a huge change for the scouts when it comes to having just one cut-down day—from 90 players straight down to 53—they still have their list of tagged guys, but there just may be a few more on it.
"At the end of this process, all the guys who are tagged will show up by position, and we may attack the positions we need first," Veach added. "But all the guys who stand out that are undrafted free agents, that are good players but because of depth may get cut, or guys who are talented players but because of their contracts get terminated, we're going to watch all those guys, but we may start with positions we need first."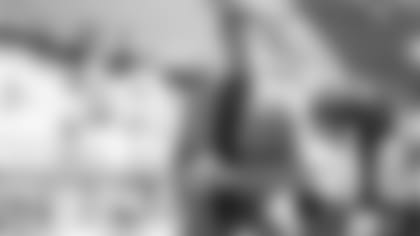 Because he's relying on his staff to bring him the initial list of tagged players, there's a certain trust involved in this process from Veach, which means it's truly a team effort.
"I have the utmost respect and trust for our scouts, and I know they know our roster really well," Veach explained. "I've worked with most of these guys the last four years, and I think they know what's expected of them. They have their teams and divisions, they tag their guys and run with it. I'm able to monitor things on a day-to-day basis—guys who have flashed, and I watch the guys they recommend.
"(Chiefs' Director of Player Personnel) Mike Borgonzi does a great job overseeing that, and (Director of Pro Personnel) Tim Terry just got here and he knows the process because of where he came from, so both those guys have just done a really good job overseeing this whole thing."
Most of this work isn't about finding an immediate impact player, but it's about churning out the back end of the roster and making things as competitive as possible all the way through—finding young players they can project and develop.
"I think you always operate with the mindset of looking at your eighth or ninth offensive linemen, looking at your fifth or sixth defensive lineman," Veach explained. "Those will be the guys starting Weeks 9 and 10. We've got to make sure we're completely confident in those guys because it's not a matter of if, but when, they play. Injuries happen. It's a battle of attrition.
"You can't just be content with how good your starters are. We have to take pride in having the best backups in the NFL, and if you have the best backups in the NFL, you're going to win a lot of games."
Veach and the Chiefs will establish who those backups will be this weekend as NFL teams are required to be down to 53 players by Saturday afternoon at 3:00 p.m. CT. Veach explained what Friday morning is going to look like at the Chiefs' office for him and his staff.
"The first thing we'll do is watch and evaluate the tape," Veach explained. "We'll put our final grades in, and we'll meet with the coaching staff, and they'll put their final grades in. Then we'll take a step back and review the whole body of work. From there, we'll get with (head athletic trainer) Rick Burkholder and his staff about where we are in regards to health, what we need—some guys may be ready to play Week 1 and some guys may not. We've got to make sure we have the right depth at each position.
"Once we get the final grades and we get with Rick, then we get together as a staff and we project our final 53, and I'll oversee that. Once we put our final 53 together, coach [Reid] will come in and he and I will talk about if there are some areas we can work with him on in regards to getting some different numbers in different positions."
At the end of that process, Veach and the personnel staff will have to tell 37 guys that they won't be making the Chiefs' roster at this time.
Those meetings, which Veach has been a part of and held over the past few years, along with Borgonzi and Ryan Poles—the Chiefs' Director of College Scouting, and Randy Ball—the Pro Scouting Assistant, among others, are never easy.
"I've done that the last four years," Veach said of having to tell guys they didn't make the team. "These guys invest everything they have, and so it's always difficult because you know their level of sacrifice to play at this level. They deserve that respect and they deserve one-on-one time to be shown the big picture on why we had to make a tough decision.
"It's also important to keep that relationship open."
Before he has to make those decisions, Veach understands he's in a good position right now with this roster, but won't let that deter him from doing anything he can to upgrade any one part of it.
"I think we have competition at every position," Veach explained. "I think we have good depth, but I don't think a team is ever really satisfied with their depth. You're going to need upgrades at some point everywhere, so I think we're always looking to see if we can just get a little bit better. Even if it's a small upgrade, it's a win for us.
"If we can get better at the sixth defensive lineman, the ninth offensive lineman, the sixth wide out, we're going to do that."