It didn't take Kansas City Chiefs general manager Brett Veach very long once he took over last summer to show his aggressive approach to fixing what he perceived as holes on the roster—trading for linebackers Reggie Ragland and Kevin Pierre-Louis, as well as offensive lineman Cam Erving within the first couple of months on the job.
And now flash-forward a few months at his first NFL Scouting Combine in his new position, Veach said he's excited about where things are headed for the organization.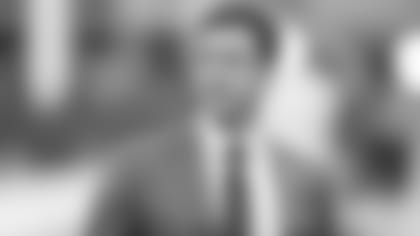 "We kind of knew where this thing was going, both in the short and long-term," Veach explained. "I think as we continue to progress through the month of March and to the draft, I think more of our ideas will get out there and the fans will be excited about it."
Veach spoke about the aggressive nature he has displayed in building the roster and whether or not it's something we'll continue to see moving forward.
"We believe in what we're doing," he explained. "We know what we're looking for in players and our roster and our culture. We believe in ourselves and we believe in our ability to evaluate talent and put people in positions to succeed.
"So, we'll be aggressive if the situation presents itself, but we're not going to be over-aggressive just to be aggressive, but when we see players we like, and we have a chance to get them, we're going to get them."
The NFL's 2018 league year doesn't officially begin until March 14, and nothing can be official until that point, but Veach spoke about their mindset in building this roster for next season.
"We never get into the mindset that we're going to be a rebuilding team," Veach explained. "I mean we're going to be aggressive—we've got young players we believe in and we've got a nice mix of veterans who will provide stability. We have a plan we believe in and I think we're set up for the short and long term.
"And I think that once we get through the free agency and draft process I think you'll see us continue to be aggressive when the opportunity presents itself. I think we'll add impact players right now, and again, be prepared for both the short and long-term."
---
For plenty of more exclusive content, check out our hour-long Facebook Live show from Friday afternoon. Follow this link to watch.