After the Kansas City Chiefs traded for offensive lineman Ben Grubbs, he noticed some things that stood out during his first day at the University of Kansas Hospital Training Complex.
"I'm very impressed with how things are run here," he said. "Everything from the cleanliness of the locker room and the bathrooms to coach Reid's talk this morning. I'm just ecstatic to be here."
General manager John Dorsey, who talked with Grubbs further, explained that for him, the "little things," or the things that "truly matter," stood out.
Dorsey related that thought to why he hosted his third annual pre-draft Jack Stack barbecue for all employees of the Chiefs on Wednesday afternoon.
"When we first got here, we said we would like to create a tradition," he said of the barbecue he now can say has been around for three years. "It gives us a chance to give back to the whole organization."
The barbecue was held at the Chiefs indoor training facility, the same site as Thursday night's draft party for season-ticket holders. Right on the practice field, Chiefs employees lined up to grab Jack Stack brisket, baked beans and even some dessert.
The event provided an opportunity to connect the business operations side of things with the football operations side—two groups of people that rarely get to spend time with each other.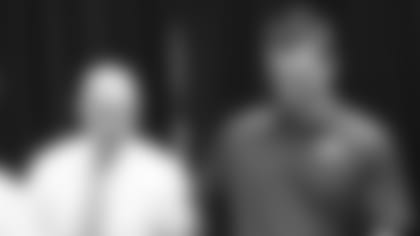 "I think it's a great thing to bring the football side and the business side together," Jeremy Slavens, the director of marketing and event acquisition for the Chiefs, said. "Both sides are extremely busy at this time, and it's nice to take a few minutes to come out and grab some barbecue."
Steve Sanders, the team photographer, went even further.
"I think this is everybody's favorite day of the year."
More than just a fun lunch to kick off draft season, the barbecue represents a moment of team unity for the staff members of the Chiefs, regardless of role in the organization.
"It lets everyone know that we all matter, we're all included in this process," Kirsten Krug, the Chiefs vice president of administration, said. "Whether you're cleaning up after the barbecue, whether you're a scout in the draft room or an accountant trying to figure out the ins and outs of the draft day event, I think everybody is involved."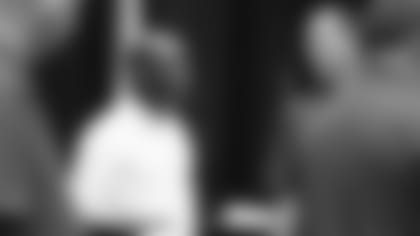 On Thursday, the Chiefs will make their first-round draft selection, a decision that will mean something to each member of the Chiefs organization.
For Dorsey, with that in mind, there was no better way to kick off the long weekend.
"What's nice is that people come into this organization every morning and it's not like a job," he said. "They come here and they take ownership in the Kansas City Chiefs and that's all you can ask for.
"It's just a way of paying back."
Kansas City Chiefs GM John Dorsey treated staff to Fiorella's Jack Stack BBQ for Lunch, a pre draft day tradition for the past three years.