The Kansas City Chiefs closed out another week of OTAs, once again, in fast-paced style.
Once the track meet that was Chiefs practice ended, head coach Andy Reid began addressing the media, assuring those affected by the Oklahoma tornado of our team's thoughts and prayers.
"Again, our heart goes out to the people in Oklahoma with the tornado," coach Reid said. "Our players felt it, obviously, and the coaches felt it and the organization. Our thoughts and prayers are with all those people."
Coach Reid then switched his focus to football, evaluating the week that was.
"On the football side of things, we're improving," coach Reid said. "The guys are working hard. They've come in with the right attitude. We've thrown a lot at them offensively, defensively. The defense is blitzing like crazy. Offense is moving around. It's great work for both sides. They're keeping a positive attitude and working through it. We'll keep getting sharper like we have been doing. We'll keep getting sharper and more efficient every opportunity we have to do this."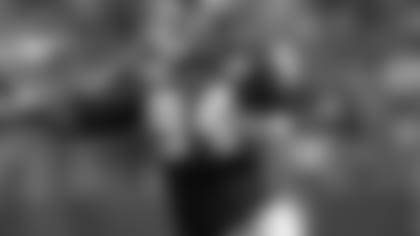 Of some of the takeaways from Thursday's practice was the continued aggressiveness of the defense.
"I'll tell you what, they're blitzing," coach Reid said. "They're doing a really good job with the timing on their blitzing. That's so important that you practice it. As hard as it is on the offense, that's OK. It pays off for you at a later time. The guys are working on both sides to get better. The timing – people don't realize it – on blitzes is so crucial."
One of the many bright spots Thursday was the play of Chiefs DE Tyson Jackson, who had a couple pass deflections and a sack before practice ended.
Coach Reid wasn't surprised by Jackson's play.
"I've been very impressed with Tyson," coach Reid said. "Very, very impressed throughout this whole camp, since we've been together here. Not many guys are going to outwork him on the field. Pass rush was not his forte. He's working like crazy on it, to get better. As a coach, that's all you ask for. You saw what he did today. Now again, this isn't live. The offensive line, they're trying to control it. Both sides are trying to control it and work it. He did a nice job. He's a big man that can move a little bit. It's very impressive."
Jackson assessed the day's work, indicating his emphasis on getting to the QB more frequently in 2013.
"I think as a team, we came out and did a pretty good job on defense," Jackson said. "We ran around to the ball, everybody flew around really fast today. From what I've seen so far, everybody has pretty much hit their assignments on the head and I'm just trying to go out there every day and improve on something and right now, so far, my focus has been on pass rushing. I really want to increase my sack total this year and my pressure on the QB."
As for the offense, a bright spot since arriving in Kansas City via trade with the Arizona Cardinals, Chiefs FB Anthony Sherman described the team's OTAs thus far.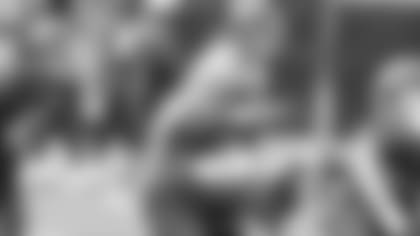 "I think they've been great," Sherman said. "The first couple of days were a little rusty but I think other than that, we've been slowly progressing our play calls, our different schemes and I think we've been executing pretty well."
Part of Sherman's success has resulted from the already-developed chemistry with Chiefs QB Alex Smith.
"We have a good chemistry," Sherman said. "He knows that I'm going to be where I need to be and I think he feels that I can catch the ball a little bit. I think he does a good job of sharing the receptions with everyone."
Sherman was quick to evaluate the Andy Reid regime.
"I love it," Sherman said. "It's greater than anything I've ever been a part of; just the energy that he brings, the meetings, the energy the other coaches bring to meetings, the way they teach, the play-calling, the schemes, everything."
Sherman's thoughts are just a few of the many reasons Chiefs chairman and CEO Clark Hunt hired coach Reid, confident that he's the guy, along with general manager John Dorsey, to lead this team to the playoffs and much, much more.
The team continues with OTAs next week, when it will have four practices, instead of three.
"At that time, we'll start working on the AFC West opponents and some other opponents that are on our schedule," coach Reid said.
"We'll put things in, different ideas and then we'll blend it with going against each other too. But there will be enough in there to where we study them and there's enough of a heads up just so when we go into this offseason and training, that we've got an idea of what we're going against. Some of the teams you can't do, some of them are new staffs, so you don't exactly know what you're going to be going against."
Regardless, when next week's first practice begins on Tuesday, May 28, at 11:20 am CDT, the coaches will be more than ready with game plans in hand.