Bryan Field at Interscholastic League Stadium in Kansas City, Missouri was long overdue for some renovations to improve the field and the overall safety of the playing area.
After eight months and about five million dollars later, the stadium now has new turf, a new track, new scoreboard and new locker rooms. Bryan Field will serve families from six different urban high schools, not just during the football season but year round.
The NFL Grassroots Grant program, along with the Local Initiatives Support Corporation (LISC) and the Kansas City Chiefs awarded Kansas City Public Schools with $200,000 to go toward the project.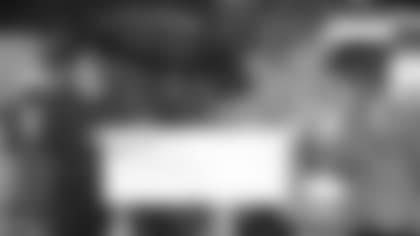 "The Chiefs have been ardent supporters of the NFL Grassroots Grant program and helping youth reach their fullest potential is extremely important," Gary Spani, Chiefs Hall of Fame linebacker and current Director of Special Events, commented.
Since 1999, the Chiefs have raised $2,180,000 for local youth field construction, renovations and refurbishments and have worked closely with the LISC as well.
"Working on projects like this, allows us to build community spirit," Stephen Samuels, Greater Kansas City LISC Executive Director, noted. "We have partnered with the Chiefs to award grants like this for the past 15 years. In fact, this is the twelfth such field we've teamed up on in that time. At its core, this field will help to transform the community."
Bryan Field has hosted football games and track and field competitions for the six local high schools since 1938; as well as, serving as a resource to the neighborhood and community as a whole.
"This field will be a showcase, but not just for athletics but the entire community," Dr. R. Stephen Green KCPS Superintendent, explained. "I think it's a sign of the revitalization of the Kansas City Public Schools and the community as a whole. My hat goes off to the Kansas City Chiefs for not forgetting about the urban core. Who knows, one of the young men out here tonight might one day play in the NFL. To me, that's exciting!"
The Chiefs are committed to helping provide safe, healthy options for local youth to stay active. The ceremony was followed by the first district game on the field between East and Northeast high schools and the athletes were thrilled to be playing on a new field.
"I'm so excited that we have a place that we can be proud of," Kevon Graves, senior defensive lineman from Northeast High School commented. "We have a place where the past, present and future can come together and enjoy and celebrate a home we built for each other."