This year, the Chiefs selected Shawnee Mission East's Dustin Delaney of Kansas and Pleasant Hill's Kyle Roach of Missouri as the 2013 High School Coaches of the Year. Each received the honor after strong performances by their respective teams, throughout the 2013 high school football season.
The 2013 High School Coach of the Year program is a joint initiative of the Kansas City Chiefs and the National Football League. It is designed to recognize and reward Kansas City area high school coaches, who have created successful programs for teams and players both on and off of the playing field. This includes coaches that champion philosophies that advance and promote player health and safety.
"It is a great honor for our team and coaching staff to be recognized this year," Delaney, head coach at Shawnee Mission East noted. "This season was very exciting as we set a school record for wins and made our first state championship game appearance. Our school and community support has been fantastic and our team is gritty and tough."
As a result of this accolade, Delaney and Roach were each presented with their official trophies and a certificate, recognizing their selection at a ceremony, held at Arrowhead Stadium, with Chiefs Hall of Fame LB Gary Spani, before the Chiefs took on the Indianapolis Colts in December.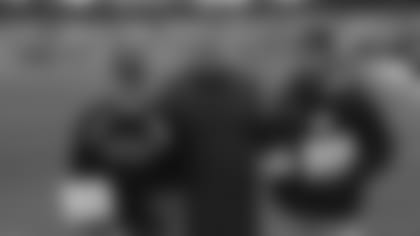 Additionally, both schools received a grant of more than $2,000 designated for player health and safety equipment and/or education.
"It's always nice when your program is recognized by your peers," Kyle Roach, head coach at Pleasant Hill commented. "These kids are great; they work hard, are coachable and are a joy to be around. We believe these kids work hard every year, and this year was no exception."
Throughout the fall, the Chiefs recognized a different coach on each side of the state line that set a benchmark among his profession. The winning coaches of the week received a $500 health and safety grant for their schools, a football autographed by Chiefs Head Coach Andy Reid, a limited-edition "Chiefs Coach of the Week" hat and a certificate of recognition.
Each state's weekly winners were selected in collaboration with PrepsKC. Former Chiefs LB Gary Spani, who currently serves as the team's Director of Special Events, honored the winners at their practice, each week.
The finalists for the Chiefs Coach of the Year award were determined through voting on the 16 individuals – eight apiece from Missouri and Kansas – named as Chiefs High School Coaches of the Week this season. Roach received Chiefs Coach of the Week accolades in Week 5, while Delaney was recognized in Week 1.
Delaney finished his first season at Shawnee Mission East (SME) with great success. The Lancers earned a Sunflower League Title, District 2 Championship and a spot in the Kansas 6A state finals in Delaney's initial season with SME. The Lancers' eight regular season wins tied a school record, while this year marked only the fifth time SME has won a Sunflower League Title in its program's history.
"Our players worked extremely hard in the weight room and on the practice field to get ready for the season and it was awesome to see their hard work rewarded," Delaney said. "Our players are great kids, who not only excel on the field, but are also phenomenal students, who will one day be leaders in our communities."
Previously, Delaney coached at Emporia High School and guided the Spartans to 23 total wins in three seasons, capturing league, district and regional championship last season. Delaney also teaches physical education at SME. He and his wife, Heidi, have two daughters, Brynn (6) and Hadley (2).
Missouri's 2013 Coach of the Year, Kyle Roach, led his Pleasant Hill team to an 11-1 record, including a pair of victories in the Missouri Class 4 postseason bracket. This marks the 11th time he has guided a team to a seven-win-or-better campaign and the sixth time he has led the Roosters to the postseason. Roach's squad also finished 5-0 in the Missouri River Valley Conference West, claiming the league title just a season removed from winning only three games.
"Our team had something to prove this year," Roach explained. "We were so close last year, in many of our games, but came out on the short end of the stick. We were hungry and played with a chip on our shoulder this season. For me, this award is an honor and it is an award shared by our players, coaches, school and community."
Holding 27 years of experience as a head coach, Roach has spent the past 15 years guiding the Roosters at Pleasant Hill. In 2009, Roach was inducted into the Missouri Coaches Association Hall of Fame. He also garnered the Greater Kansas City Football Coaches Association's Class 3 Coach of the Year honors in both 2005 and 2006. In addition to his coaching duties at Pleasant Hill, he also teaches physical education. He and his wife, Kathy, have three sons, Nathan (25), Aaron (23) and Trent (20).
Congratulations to Dustin Delaney and Kyle Roach on being named the 2013 Chiefs High School Coaches of the Year! Thank you for your hard work, dedication and service to the Kansas City community.