The Kansas City Chiefs have selected Irene Caudillo, President and CEO of El Centro, as the recipient of this year's local edition of the NFL Hispanic Heritage Leadership Award. The Chiefs will honor Irene during today's pregame celebration before the team faces the Chicago Bears at Arrowhead Stadium.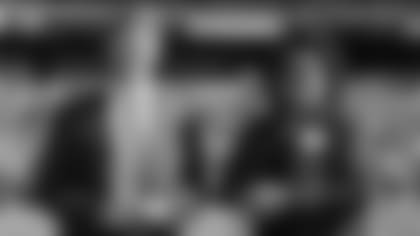 Clark Hunt and Irene Caudillo
The NFL and the Hispanic Heritage Foundation (HHF) have partnered for the fifth annual NFL Hispanic Heritage Leadership Awards during the 2015 celebration of Hispanic Heritage Month. The awards recognize the contributions of Hispanic leaders in each NFL market.
While at El Centro, Irene's vision has guided the organization to uplift the local Hispanic community, especially within Kansas' Wyandotte County. One of the prime programs El Centro administers is its Promotoras de Salud, which educates people who speak Spanish as their primary language about healthy lifestyle options. This outreach includes topics such as the importance of regular mammograms and other breast cancer treatment options.  Celebrating its 40th anniversary this year, El Centro continues to make its mark.
Though she is only in her second year overseeing operations at El Centro, Irene's relationship with the organization dates back to when she earned her bachelor's degree from the University of Missouri-Columbia and her master's degree in public administration from the University of Missouri-Kansas City. After graduating college, she created children and youth programs for nonprofit organizations, including El Centro and Wyandotte Mental Health Association, in Wyandotte County. After spending time with the Kansas City, Missouri Health Department as Minority Health Outreach Director, she returned to Wyandotte County as Executive Director for Youth Opportunities Unlimited, Inc., an agency devoted to developing and maintaining collaborative efforts to improve the quality of life for Wyandotte County youth. In 2004, she joined Catholic Charities of Northeast Kansas as the Director of Family Strengthening before serving as the Director of Clinic Operations for Swope Health Services. Irene then returned to El Centro as the Chief Program Officer in anticipation of transitioning into her present role as the President and CEO upon the retirement of the past leadership. In addition to Irene receiving her official recognition from Chiefs Chairman and CEO Clark Hunt during pregame festivities at Arrowhead Stadium, El Centro will also obtain a $2,000 donation thanks in part to the NFL Foundation in recognition of this accolade.
The Hispanic Heritage Foundation is an award-winning nonprofit which inspires, identifies, prepares and connects Latino leaders in the classroom, community and workforce to meet America's priorities. HHF also promotes cultural pride, accomplishment and the great promise of the community through public awareness campaigns seen by millions.  For more information on the year-round, high-impact programs and work of HHF, including the Hispanic Heritage Awards, visit www.hispanicheritage.org.
Previously, David Chavez (2014), Juan Sepúlveda (2013), Ramón Murguía (2012) and CiCi Rojas (2011) have been recognized as the Chiefs local NFL Hispanic Heritage Leadership Award winners.