The Kansas City Chiefs hosted an exclusive Draft Fest for Season Ticket Members on Friday night for a seventh-consecutive season, though this year's event was a little different than normal.
The Chiefs traded their 2018 first-round selection in the midst of last year's draft in order to select quarterback Patrick Mahomes , leaving Kansas City without a pick on Thursday but creating a unique opportunity for Draft Fest to occur during the second and third rounds on Friday night at Arrowhead Stadium.
By holding the event at Arrowhead, as opposed to the customary Indoor Practice Facility, the Chiefs were able to provide more opportunities to an increased capacity of Season Ticket Members and their families.
"We continually want to thank, reward and appreciate our Season Ticket Members," said Matt Kenny, Vice President of Stadium Services and Events. "Having STM Draft Fest is another innovative event to give privilege and access to our Season Ticket Members."
In addition to watching the draft from the field, Season Ticket Members had access to special areas such as the Chiefs' locker room, the Locker Room Club, autograph signings from select players and other on-field activities.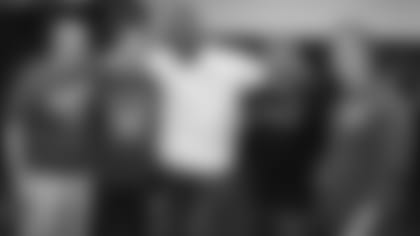 It was a night many won't soon forget.
"It was a perfect evening at Arrowhead," said Season Ticket Member Margaret Brown. "My husband was out of town, so I took our four-year-old grandson to the party and he had the time of his life. We will come again."
The event also provided a glimpse into how stadium entry will work for next season, as access to Draft Fest was done exclusively through mobile ticketing.  While most Season Ticket Members will use their exclusive STM card for entry, all other fans will be entering Arrowhead via their mobile device in 2018.
Speaking of next season, Draft Fest was just one of the many perks that come along with being a Season Ticket Member, including reduced per game ticket pricing, the familiarity of the same seat for all home games and exclusive discounts through Chiefs Kingdom Rewards.
To learn more about becoming a Season Ticket Member for 2018, click here.
For the seventh-consecutive year, the Kansas City Chiefs hosted a Draft Fest exclusively for Season Ticket Members, and it was the first year the event was held at Arrowhead Stadium.