In honor of American Indian Heritage Month, the Kansas City Chiefs Community Caring Team partnered with the American Indian Working Group to host a Play60 clinic and a tour of Arrowhead Stadium.
Youth from around the area were invited to take part in Play60 circuit drills and interact with a couple of Chiefs players, Chiefs cheerleaders and K.C. Wolf in an effort to keep active for an hour a day, all while celebrating the heritage of American Indian peoples.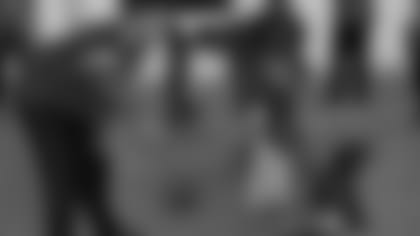 "There's a health problem that everybody faces," said Johnny Learned, president and CEO of the American Indian Center of the Great Plains in Kansas City. "Kids don't get the exercise. Last year we had a number of busloads come in from the reservation and we met in Lawrence (Kan.). This year we decided to move it here."
Kids were led by long snapper James Winchester and quarterback Tyler Bray to take part in long snapping and throwing and receiving drills while learning a few tips from the pros.
The two players not only represented the Chiefs, but also their American Indian heritage. Winchester is of Choctaw Nation and Bray is of Citizen Band Potawatomi.
"It's pretty special to have Native American heritage in my family and to recognize this month as Native American History Month," Winchester said. "The Chiefs have a lot of good things going on with the American Indian Center of the Great Plains.
"Everybody's proud of their heritage and to be recognized this month and to have that heritage is something special. I'm extremely proud to be a part of the Choctaw Nation, to be a part of this and to be able to come and work with the kids. It was a good time."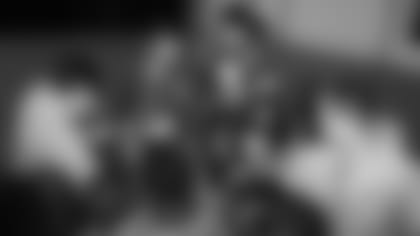 The Chiefs home game versus the Pittsburgh Steelers on Oct. 25 was dedicated to the celebration of Native American ancestry with the goal of raising awareness from a professional sports team's platform.
"It meant progress," Learned said. "I think with our partnership with the Chiefs, the word is a better understanding is starting to take hold with the fans and the community as a whole. It's something that had never been done. I think we started something positive here."
Sports teams across the nation have recently honored American Indian Heritage Month, including the Oklahoma Thunder, Oklahoma State University men's and women's basketball teams, Oregon State's men's basketball team and many others.
"I've gotten calls from around the country now on how we got started and what type of events," Learned said. "The main thing is you have to have a willing partner and the Chiefs are that. They're listening to what we're saying and I think they understand it's a new century—some of the old things back in the '60s and '70s, they don't hold true today. People are more aware of sensitivity and they want to learn more about what we're doing."
In addition to Friday's Play60 event, the Chiefs and the American Indian Working Group have partnered on numerous collaborations throughout the past two years, including a Punt, Pass and Kick contest, numerous youth football camps during the summer and last year's Play60 event.
"As time goes along, people will start putting it on their calendar and that's important," Learned said. "I think people don't realize what natives look like now. The face of Native Americans change as we go forward—it's not going to be apparent in skin color. People should be proud of it.
"Some of the things we're working on, like the sensitivity with the headdress and that sort of thing. A lot of natives are offended by that, but I don't think the fans realize why. So we've been doing that and putting out information about that [to raise awareness]. It's good that we have a good line of communication."