Every time there's a hint of feeling like the Kansas City Chiefs might be done, they respond in a way that has proven time and time again to have you questioning yourself for doubting they could do it in the first place.
Whether it's a 1-5 start to the season or a big second-half deficit, there's not one guy in that locker room that ever feels like they are incapable of pulling off the improbable, even if some may see it as impossible.
The Chiefs proved all of this again on Sunday during their 20-17 victory over the defending NFC champion Carolina Panthers, who held a 98.1 percent chance of winning at one point in the second half, according to ESPN.
The Panthers held a 17-3 lead early in the fourth quarter before giving way to a team that just took the win right out of their hands, which became more literal than metaphorical late in a game that won't soon be forgotten.
"I'm proud of my guys for the way they handled things," Chiefs coach Andy Reid said after the game. "When it's all said and done—Eric Berry and Marcus Peters—the defense stepped up and did some nice things. The offense stepped up at the end—good team win."
With the Chiefs trailing 17-6 early in the fourth quarter after Cairo Santos' 36-yard field goal got the Chiefs back on the board for the first time since the final seconds of the first half, the defense was tasked with making a play, which became a theme in this game.
After the first two plays of the Panthers drive netted just 4 yards, defensive coordinator Bob Sutton decided to bring the house on third-and-6 at Panthers quarterback Cam Newton, who threw late off his back foot.
Berry, who called it before the drive began, made a play for his teammates.
"He was a possessed man," Peters explained of Berry's demeanor before that play. "[Berry] told us we were going to get a turnover when we went out there. You saw it when he went out there that he wasn't going to stop. He was going to score one way or another."
Berry intercepted Newton's pass and zigzagged across the field—breaking numerous tackles and using every inch of the 53 yard-width of the field to sneak into the far corner of the end zone, giving the Chiefs the much-needed spark to put a win within reach.
The 42-yard interception return for a touchdown and subsequent successful two-point conversion on a pass from Alex Smith to Travis Kelce brought the Chiefs right back into the game at 17-14.
"He's the leader on that defense—no question about that," Reid said of Berry after the game. "I thought it was a phenomenal play. I hate saying you expect that from him, but he just wills himself like no other. You saw it when he defeated cancer. You saw it here.
"That's just his mentality. It's unbelievable."
Before Berry's interception, the sequence of events that that also showed the depth of the defense's will to win came at the conclusion of a 20-play, 51-yard drive by the Panthers that chewed up more than 10 minutes off the clock in the third quarter.
With Newton leading the Panthers offense down the field by converting five straight third downs to the Chiefs 20-yard line, the defense needed to step up when they were tired, trailing 17-3 and looking like they were about done.
On first-and-10 from the Chiefs 20-yard line, Berry flew in and made a tackle for loss.
On second-and-11, Dee Ford raced around the right edge with the impressive first step that's so often associated with his skillset and brought down Newton for a loss of 7 yards.
It was the 10th sack of the season for Ford.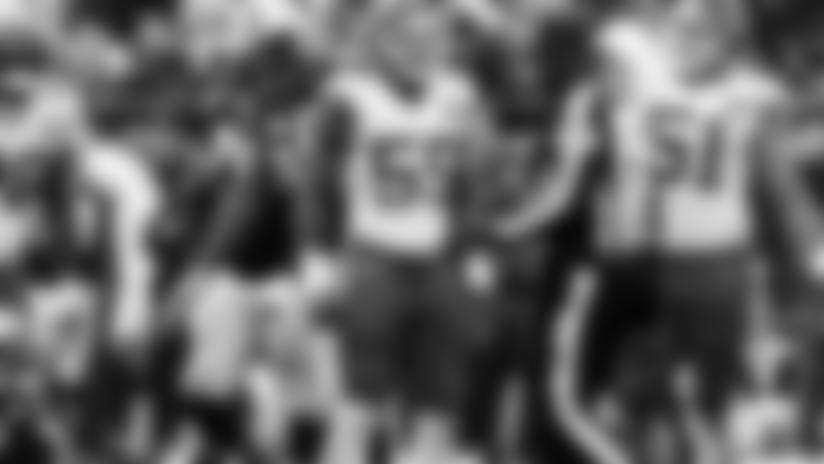 Then, on third-and-long, rookie defensive lineman Chris Jones brought down Newton for sack and loss of 12 yards. It was the second sack of the season for Jones, who continues to make plays for this defense.
Jones' sack pushed the Panthers out of field goal range—ultimately setting off a series of events that helped the defense shut the Panthers out in the second half.
"I think they're relying on each other, which is the beauty of it," Reid said of the defenses ability to make plays. "They're expecting each other to make plays and that's an important ingredient."
Later in the game and after the Chiefs were able to tie the game 17-17 on a late 33-yard field goal from Santos, the defense was once again tasked with making a play.
With 20 seconds remaining and with the Panthers possessing the ball at the Chiefs 20-yard line, Newton was looking to put his team in position to attempt a game-winning field goal. 
At the same time, Peters was looking to take the ball away in any way that he could.
Despite giving up five inches and 50 pounds to receiver Kelvin Benjamin, Peters literally took the ball right out of Benjamin's hands as he was attempting to gain a few more yards after a 14-yard reception.
"I just took it from him," Peters explained after the game. "You know how you go to the store and you want something and your mama says you can't have it? I should have caught that first pick that [Newton] threw to me, but I stayed patient."
After Peters returned it 10 yards and with the Chiefs in field goal range—out of excitement and for the second time in two weeks—Peters punted the ball into the crowd, which drew a 5-yard delay of game penalty.                                                                                                
"I'm going to work on him," Reid explained of Peters after the game. "He's a really gifted guy. He thinks he can do a lot of things, but he's not a punter. I'm going to block the next one. That's what I'm going to do."
After an 11-yard carry by running back Spencer Ware, the Chiefs used a first-down run from quarterback Alex Smith to put the ball in the middle of the field with 13 seconds remaining, and then it was up to Santos, who drilled the 37-yard field goal as time expired to pull off the improbable victory.
After the game, Reid said he's proud of his guys to maintain their will and fight to win—regardless of the circumstances.
"It's easy in this league to pop the balloon and deflate," Reid explained. "This crew here has got some character. Does that mean you win every game? No, but you're going to give yourself an opportunity to do that with that kind of character."
For many, this victory can be seen as a statement game of sorts—the Chiefs pulled off a 17-point comeback victory over the defending NFC champions, and they did it all without key starters on both sides of the ball in receiver Jeremy Maclin and defensive lineman Jaye Howard—not to mention starting cornerback Phillip Gaines leaving early with an injury.
Through it all, this team excelled, and despite some national media calling the Chiefs "the quietest" 6-2 (now 7-2) good team in the league earlier this week, Reid doesn't care if this is seen as a statement game or not.
"We don't go there," Reid explained. "We don't listen to all of that. We just try to focus in on doing our job and doing the best we can. Is it always pretty? No. It's not, but neither are Picassos, but you find beauty with it."
There was plenty of beauty in Sunday's win, and there's plenty to believe in right now too.