Any way you draw it up, good offenses will always be stopped by physical, get-in-your-face defenses. Being the instigator isn't allowing an offense to get comfortable, whether it's a quarterback in the pocket, a running back heading between the tackles or a receiver running across the middle.
Good defenses have their presences felt, early and often on Sundays.
That always starts with the guys up front.
As the NFL changes towards a more pass-happy league, whether by rules or talent, the best way to stop them is simply taking advice from Mike Tyson.
"Everyone's got a plan till they get punched in the mouth."
Every football-loving fan in the world saw that in the most recent Super Bowl, where the Seattle Seahawks brought their physical brand of football to the Denver Broncos, who could only manage eight points in a 43-8 loss, after setting an NFL record for most points in a regular season (606).
For the Kansas City Chiefs in 2014, there's a lot of intriguing storylines developing within a deep group of talented players along the defensive line.
Any mention of the Kansas City Chiefs defensive line will always include Dontari Poe, the Pro Bowler from a year ago who has developed into one of the NFL's premier defensive linemen.
Poe, who played an astounding 93.7 percent of the Chiefs defensive snaps last season, loves the opportunity to always be out on the field.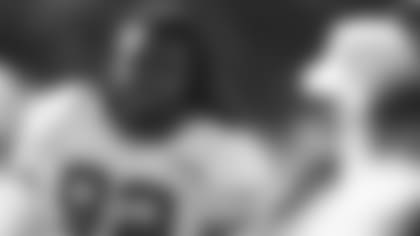 "Whatever the team needs," Poe said. "If I play that much, or even more, I'm ready for it. I conditioned for it this whole offseason. Whenever the coaches put me in, I'm ready anytime."
Poe is only one of two current Chiefs defensive linemen who played at least 75 percent of their team's defensive snaps last season. The other would be Vance Walker, the free agent who came over from the Oakland Raiders this offseason, where he played 791 total snaps, accounting for 75.3 percent of the total played by the Raiders defense.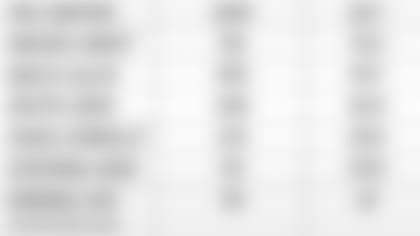 Part of what's key for the Chiefs defensive linemen moving forward is versatility. As much as teams are spreading defenses out right now using 11-personnel (3 WR), the amount of snaps played in nickel and dime sets is increasing. That means two down-defensive linemen in 2-3-6 (2 DL, 3 LB, 6 DB) alignments, 2-4-5, or any other variation that keeps a defensive lineman off the field, which means opportunities are limited for a deep group.
That understanding led three Chiefs defensive linemen to put in a concerted effort to change their bodies this offseason, with the hopes of becoming more versatile.
Mike DeVito isn't a stranger to defensive coordinator Bob Sutton's defense, having played for Sutton with the New York Jets before coming to Kansas City before last season.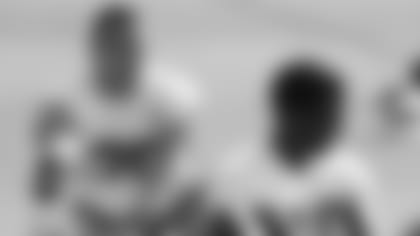 Changing his offseason routine, DeVito came into training camp leaner and with more quickness this year.
"I feel like I'm moving better, I feel like I have more endurance out there and I'm not getting tired as fast," DeVito said. "So, I just got to keep grinding [and] keep working on it. It's not just a couple-month process, it's a long-term process. I feel good and as strong as ever, so usually you would think you would gain weight, you get stronger. But I actually lost weight and got stronger. So it's good."
After playing in just 42.8 percent of the defensive snaps last season, DeVito made an effort to become more versatile this offseason so he can play in those nickel and dime defenses.
"That's what I'm fighting to do," DeVito said. "I'm fighting to get in there on those downs, because what happens is, when other teams are playing 70 percent of the plays in 11-personnel, that's how you're going to get on the field.
"They paid me to come out here and play ball and be productive and the way to do that nowadays is to get in on those sub-packages so, working hard, learning from Tommy Brasher and Britt Reid, I'm just going to keep growing."
The work DeVito did this offseason and the way he dedicated himself doesn't surprise Sutton.
"Mike DeVito, of course, is a pro's pro," Sutton said. "He's a guy that came in the league as an undrafted player. He's had to kind of work for everything he's had. He's always done a great job taking care of his body, maximizing everything about it whether it was—more bulk, more strength, whatever.
"This year I think he's got tremendous strength, obviously, but I think from a body fat standpoint, he's tried to even tighten that down so he can play at an even greater speed, maybe improve his pass rush a little bit, and all that."
Familiar with the defensive scheme, DeVito can help bring along the younger players and he embraces that role.
"I've been in this defense since 2009, so that's really helped me take on more of a leadership role," DeVito said. "And I don't have to think as much because I've been doing these plays for so long. So that's really a big benefit."
Sutton says it goes beyond simply helping with techniques for DeVito and what he brings to the team.
"Mike is a student of the game," Sutton said. "He really understands from being in New York what we're doing defensively, but he also understands how we've studied and prepared and that's such a big part.
"We talk about it all the time, the culture that we're trying to develop. Culture is just a learned behavioral pattern so, he's trying to show everybody how we prepare—all the things you can learn before the ball is snapped which can help you be a better player, he's been able to share with these guys, besides the basic technique."
All of the hard work for DeVito is now on display at training camp, where he enjoys getting back in pads and preparing for the season. He especially likes OL/DL 1-on-1 drills, where he can use his new physical attributes to work on rushing the passer.
"Yeah it is, it's a fun drill," DeVito said. "This whole camp process is a good time because you're finally getting the pads back on, finally moving around [and] hitting [and] you're getting around your teammates, your brothers. You got to continue to grow."
Sutton knows DeVito's presence around the younger players is not only a good thing for the other defensive linemen, but the entire defense.
"His work ethic is hard to match," Sutton said. "So they see that every day and I think it's a really great thing for the D-lineman and our defense in general."
While it may have been only one season in Sutton's scheme, Poe made the best of it and established himself as one of the best young defensive lineman in the NFL.
Spending much of his rookie season in a base 3-4 defense two-gapping, playing horizontal and eating up blockers for his teammates, Poe was excited when Sutton came with his attacking style last season.
"Loved it, loved it," Poe said. "Just let me be me man. Just let me play football the best I can, not holding me down with too many restrictions. Just let me make as many plays as I can."
Coming into his second year with coach Andy Reid, Poe knew a tough training camp was ahead of him. He had experienced what an Andy Reid-like training camp looked like a year ago, and he appreciates what it does in getting him ready for the season.
"It will get you ready for anything you can encounter in the NFL season," Poe said. "The tempo we go at, the physicality of it, it gets you ready. So from that aspect, I love it."
Another player who is ready for the season is fourth-year player Allen Bailey, who has also changed his body in hopes of becoming more versatile.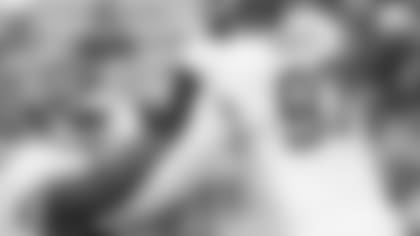 In Bailey's case, that change was putting on weight. He wanted the ability to play in both base and sub defenses and adding weight could help him with that.
"You've got to be able to do both and I feel like the weight probably helped me out a good bit," Bailey said.
Sutton is encouraged by what he's seen from Bailey, both here at camp and throughout the course of last season.
"Allen (Bailey) is a fantastic athlete," Sutton said. "He is big, strong, very quick [and in] tremendous condition. He could play out here all day long, [he's] got great arm length, which is a really valuable tool in there.
"He made a big improvement a year ago as the season went along—recognition, instincts, all those things, they come with a lot of reps. His arrow is pointing up and he's got a chance to really take off I think. He's got a great work ethic, he loves to play and he's got some really good skill. So we're all really excited about him and I think he's just going to get better and better."
In parlaying what Sutton said, Bailey has seen a lot of first-team reps here at training camp.
Another player who understands versatility is one of the new faces along the Chiefs defensive line, former Oakland Raider Vance Walker, who came over after signing a three-year deal with the Chiefs this offseason.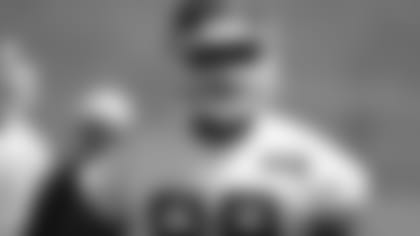 "Versatility is the key word," Walker said. "It's becoming that way across the whole NFL, whether you're a D-end, you need to play inside; if you're a D-tackle, you have to play outside. It just really disrupts the offense because we can do things that guards aren't used to seeing per say [and] tackles aren't used to seeing."
When asked about the mentality needed to play along the defensive line, Walker made it easy to understand.
"Playing the run to me, honestly, it's just a mindset," Walker said. "Weight's obviously going to help. Strength's going to help. But you just know at the end of the day, that guy is not going to punk you; he's not going to run you over, he's not going to have his way. You're going to do that to him."
Walker explained that rushing the passer is a little more nuanced.
"Pass-rushing, there's a little more thought into it and I think it's fun," Walker said. "It's more like an art. Being quick, being strong, whatever you can do—bring that to the table. And the biggest thing is explosiveness. I've never seen a good pass rusher who wasn't explosive. So being explosive certainly helps the run as well."
He went on to say that getting a quarterback "off his spot" is the goal, but that getting sacks is a collaborative effort.
"I think for the whole defensive line, we're all going to help each other out," Walker said. "It's a great thing when you can help your teammates get sacks and vice versa."
Getting pressure on the quarterback is something Walker had success with last season with the Raiders, picking up three sacks and 32 quarterback hurries. For comparisons sake, Poe had 28 hurries and four sacks last season for the Chiefs.
Different personnel, different schemes, but finding his way to the quarterback from the defensive line wasn't out of the ordinary for Walker.
Meanwhile, another player who thrives on getting after the passer is second-year player Mike Catapano, the former seventh-round pick in 2013 out of Princeton.
Like DeVito and Bailey, Catapano has worked hard this offseason to change his body to be more versatile, something that hasn't gone unnoticed from Sutton.
"He was a smaller guy, more of an outside linebacker-type when he came in," Sutton said. "He's built himself up, the other way, so he can be a factor and improve his run defense when he's playing inside."
Catapano talked about preparing for this season.
"Last year I was really just a pass-rush type role," Catapano said. "But in order to be a complete player, to be an every-down player that really contributes as much as I can to my ability, I had to gain a little weight to fit in the scheme, and I really worked hard with Barry Rubin.
"I stayed here after the season was over for a long time and with a nutritionist. [I was] really trying to slowly gain some good weight and I packed on about ten or so pounds. And I still feel great. I still feel quick. I still feel like I have my natural pass-rush ability and quickness, but now I'm also a threat against the run game."
His senior year at Princeton, Catapano had 12 sacks and 41 total tackles, including 15.5 for loss.
"He's got some innate pass rush skills and ability, and he knows this," Sutton said. "So, the more he can do physically to improve his strength, not just his size, but his strength and size, it's going to make him a more effective player, and allow him to get on the field more, so he's done a good job."
With a physical appearance that's noticeably different than a year ago, Catapano explains what he likes about playing in Sutton's scheme.
"Just the aggressive, attacking mindset that Sutton brings in the playbook," Catapano said. "Every down, we're going after him [QB]. We're not sitting back. We're not trying to read anything. We're taking it to him. We're the instigator; we're the attacker, the aggressor—not the offense."
This is exactly the kind of thing you want to hear from a defensive player, because it's about forcing the action and not playing into the hands of the offense.
Kona Schwenke, Dominique Hamilton, Jermelle Cudjo, Jaye Howard and Kyle Love round out the rest of a talented and deep defensive line group.
It's definitely a group to keep your eye on as we move closer to the regular season and the end of training camp.
Best photos of the Defensive Line from Training Camp.