Training Camp for the Kansas City Chiefs kicked off on Monday, as rookies, quarterbacks and select veterans participated in the first practice of the summer at Missouri Western State University.
These first few days of camp serve as an introductory period before things really get going later this week, allowing each of the Chiefs' injured players a chance to ease into their return to the field.  
Chiefs Vice President of Sports Medicine and Performance Rick Burkholder provided an update on those individuals following practice, beginning with a couple of defensive players.
"This camp for us is a little bit of rehab, so these guys are getting back before we get the pads on," Burkholder explained. "So, to go through some of the guys that are coming off injuries: [cornerback Ashton] Lampkin, who tore his ACL last year, isn't quite ready yet and we'll just take him day-by-day. [Linebacker] Dee Ford is here and he's doing great - we anticipate that he's going to be OK as we get into pads."
Lampkin signed with Kansas City following the draft last year and injured his knee in that ensuing Training Camp. Ford, who is now entering his fifth year with the Chiefs, missed 10 games last season with a back injury.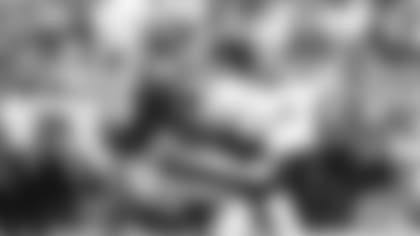 Burkholder went on to provide an update on a handful of players on the other side of the ball.
"[Center] Mitch Morse is healed up and has been cleared, he did everything today," Burkholder said. "[Wide receiver] De'Anthony [Thomas], who is coming back from a fractured leg, did a lot today - we'll take him day-by-day and lead him back into contact as the camp goes on. Right now, we're just going to get him ready for contact but he's not going to do it. It's the same thing with [running back] Spencer Ware and his knee. He's doing phenomenal, but we'll bring him back slowly. [Running back] Damien Williams, who we signed and was coming off surgery, is doing great. He did everything today."
Morse is making his way back from a foot injury that held the fourth-year center out of all but seven games in 2017. Thomas broke his leg in the Chiefs' regular-season finale against the Denver Broncos, while Ware tore his ACL in the third week of the preseason last year. Another tailback, Williams, injured his shoulder while on the Miami Dolphins in 2017.
For each of the players in attendance – no matter the intensity of their workout - Monday's practice represented a step in the right direction. 
"With all of these guys, we'll monitor them from day to day and see how they are," Burkholder explained. "Coach [Andy Reid] will give you updates as we go."
In addition, rookie safety Armani Watts left Monday's practice with an ankle injury. More information will be provided as it's delivered.