The holiday season is a time of celebration for families throughout Chiefs Kingdom, but for many, it's defined by hardship, tough decisions and hunger.
More than 300,000 individuals are food-insecure in our immediate region alone, making up nearly 14 percent of the local population. It's an unfortunate reality that affects thousands right here in Kansas City on a daily basis, and once again, the Chiefs are teaming up with Harvesters and Hy-Vee to make it a thing of the past.
All three organizations came together at Arrowhead Stadium on Wednesday morning to kick off the annual Chiefs Kingdom Food Drive, which is the largest food-relief initiative in the National Football League.
In fact, the drive provided nearly 265,000 meals last year alone, creating real change for families in need while setting an example for what this community can achieve.
"We have a goal of tackling food insecurity in our community and that once again starts today," said Chiefs' CFO and Harvesters' Board Chair Dan Crumb. "Many of us take for granted that we know where our next meals are coming from, while many others are not as fortunate. As we approach the upcoming holiday months, it's important that we're not only thankful for what we have, but also that we identify hunger-relief efforts that will provide nourishment for our neighbors."
Members of the Chiefs Community Caring Team, including Ambassador Chris Penn and a pair of Chiefs Cheerleaders, helped kick off the event as Hy-Vee donated 1,000 bags of holiday sides to get things started.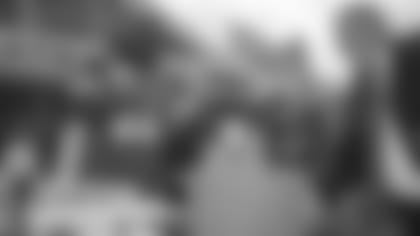 "Across our region, the partner agencies in Harvesters' network are providing food to more than 141,000 people each month," said Valerie Nicholson-Watson, President & CEO of Harvesters. "Many of the people that we help are hard-working families who happen to have low incomes. They have to make very tough choices about whether to pay utilities, rent or to buy groceries. That's why the Chiefs Kingdom Food Drive is so important to Harvesters."
The drive is just one way that the Chiefs work hand-in-hand with Harvesters to help hungry families in Kansas City, from participating in the annual "Souper Bowl of Caring" and Lift Up America initiatives to monthly staff visits to pack snacks for kids.
It's all about giving back to those who need it most during this holiday season, and the Chiefs are encouraging fans to join that effort.
Fans can bring non-perishable food items or financial donations to the Chiefs' matchup with the Green Bay Packers on Oct. 27, drop off donations at area Hy-Vee locations beginning on Nov. 1 or by participating in the "Virtual Food Drive," which can be found by visiting harvesters.org/chiefskingdom.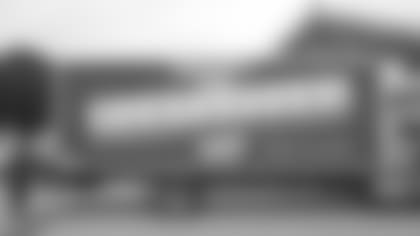 As part of the game-day festivities, fans can also purchase retro-inspired banners outside of Arrowhead with proceeds benefiting Harvesters.
Additionally, the upcoming Hunt Family Foundation 50/50 Raffle will benefit local hunger relief agencies – including Harvesters – and fans in the state of Missouri don't have to wait for game day, as the raffle is already live online.
This community has demonstrated time and time again what it can achieve when rallying around a common cause, and as the winter months roll in, all three organizations are working to ensure that every member of Chiefs Kingdom has something to eat.
To kick off the Chiefs Kingdom Food Drive (CKFD), the Chiefs Community Caring Team and Kansas City Ambassadors joined representatives from Harvesters and Hy-Vee to assemble holiday meal boxes.