From some passionate words of advice to several fun activities, it certainly wasn't an average gym period for kids in three Olathe schools on Monday as the Kansas City Chiefs launched an NFL FLAG pilot program within the district.
The program, which could potentially reach more than 15,000 kids throughout the metro next year, is part of the Chiefs' efforts to take an active role in promoting flag football - the fastest-growing team sport in the United States over the last three years – in Chiefs Kingdom.
"The game of football brings out so much passion for people in this community, and the kids should be a part of it," said Gary Spani, former Chiefs' linebacker and current Director of Community Engagement. "I think that if they learn the game, they'll see how much fun it is, and it'll create [a love for the game] that I experienced when I was growing up."
The folks at the Olathe School District were the first to sign up for the program, which will take place throughout the spring at Olathe Northwest High School, Chisholm Trail Middle and Meadow Lane Elementary. The launch on Monday included a visit from Chiefs Ambassadors, Cheerleaders and KC Wolf to all three schools, where the kids learned about confidence and perseverance before taking part in some flag football activities.
From the visits to the program itself, it was all something that the district simply couldn't pass up.
"I just thought it was a great opportunity for us to work with the Kansas City Chiefs and to create some excitement throughout our district," said Mark Mahoney, the OSD Middle and High School P.E. Curriculum Coordinator. "This is about knowing the power of football and what it does for teamwork and bringing people together. With the excitement surrounding the Chiefs last year, I thought this was the time to get them involved and to see what great things we can do together."
That opportunity came to fruition on Monday, as dozens of kids donned a Chiefs' jersey and strapped on their flags, but it was just the beginning. The Chiefs plan to continue these efforts at schools throughout the metro in the coming weeks, and with enough community partner and volunteer support, these programs could become commonplace in Kansas City schools.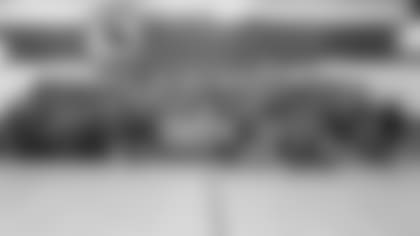 It's all part of the franchise's commitment to providing opportunities for kids to engage with the Chiefs year-round. In fact, just next month, the Chiefs will announce a new youth-focused program called Chiefs Kingdom Kids that will foster unique experiences both at Arrowhead and around Kansas City – from movie nights and youth camps to the FLAG football program. The Chiefs also offer the on-going Chiefs Sports Lab for kids that provides interactive learning tools and games in addition to stadium tours.
Monday's launch was just another example of that commitment to the community, which Chiefs Ambassador Mark Collins – who spoke at Chisholm Trail Middle – summed up nicely.
"It's just always fun to interact with kids and to help them build confidence, and at this age, it's imperative that they start believing in themselves," Collins said. "That's what we're trying to do."
To support the Chiefs' NFL FLAG program or to bring it to a new location, contact Gary Spani [gspani@chiefs.nfl.com].
The Chiefs ambassadors visit Meadow Lane Elementary, Chisholm Trail Middle School, and Olathe Northwest High School on Monday, March 25thto deliver Chiefs Kingdom FLAG Football kits