Central Middle School students were in for a surprise when their buses showed up to the door this past Monday morning.
Waiting for them there were K.C. Wolf, Chiefs cheerleaders and the Rumble, all to help celebrate a key partnership—that between City Year and the Kansas City Chiefs.
"The Hunt Family Foundation and the Chiefs have been working in partnership with City Year for many months to prepare for the 2015-2016 school year at Central Middle School," the Chiefs director of foundation and development, Anne Scharf, said. "Our goal is to truly make a positive impact on these students through the course of the year and we were so glad that together with KC Wolf, the Chiefs Cheerleaders and the Rumble, we were able to help the year get started with students smiling on their way in the door."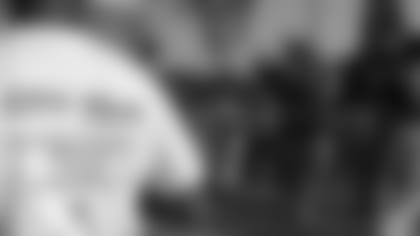 According to its website, City Year works to bridge the gap in high-poverty communities between the support that students actually need, and what their schools are designed and resourced to provide. In doing so, the organization helps to increase graduation rates across the country.
City Year has made an impact in more than 20 cities and now, together with the Chiefs, it hopes to bring that success to Kansas City.
"We are excited to join the Kauffman Foundation and J.E. Dunn to bring City Year to Kansas City for the 2015-2016 school year and beyond," Chiefs Chairman and CEO Clark Hunt said.  "The Hunt Family Foundation is dedicated to serving the youth of Kansas City, and we believe this partnership with City Year can have a dramatic impact on at-risk students in the Kansas City Public School District.
"City Year's program has shown tremendous results and its passionate team shares our heart for the Kansas City community. We look forward to working closely with them this school year and for many years to come."
Since the Chiefs were founded in 1960, the Hunt family has always stressed the importance of positively impacting the community.
With that in mind, Central Middle School seemed like the perfect place to begin this partnership.
"Central Middle School is particularly meaningful to the Hunt family because of its close proximity to the location of the old Municipal Stadium, the original home of the Chiefs," Scharf explained. "The partnership with City Year gives an opportunity to give back to the segment of the community that was so significant to the history of the Chiefs organization."
The launch on Monday at Central Middle School was just the first event in many to come.
"Our goal is to have the Chiefs Community Caring Team involved with Central Middle School at least once per month during the school year through stadium visits, assemblies, and other inclusion in existing Chiefs-related events," Scharf added. "We look forward to embracing both City Year and Central Middle School and to doing what we can to support these students in the classroom and through life experiences."