It's the update Kansas City Chiefs fans wanted to hear, as veteran linebacker Derrick Johnson, who was lost for the season after suffering a ruptured Achilles tendon against the Oakland Raiders in early December, took a few minutes out of his schedule last week in Houston to talk about his rehab and how he's doing right now.
"It's going well," Johnson, the franchise's all-time leading tackler who worked his way back from this same injury to the other leg just two years ago, explained. "I just found my old phone that had all my rehab dates in it, and I'm looking at the date like, 'Man, I was doing this at four months, this at five months.'
"I'm just getting that motivation."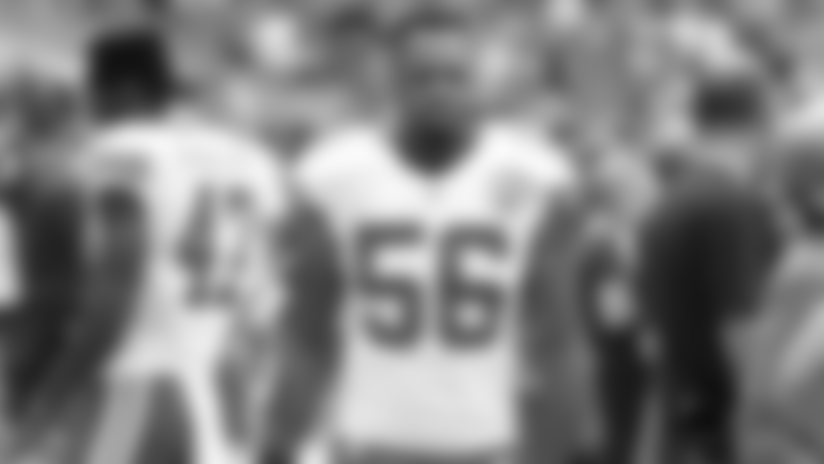 Johnson hit the eight-week mark of what he said is generally a six-month process on Sunday, and that meant he no longer needed to wear a walking boot—something he was anxious to get rid of as he walked around radio row in Houston.
With training camp coming more than seven months removed from the time of the injury, Johnson remains optimistic about being on the field with his teammates at the start of training camp.
"I'll be ready for camp," he added.
While Johnson said he won't be running until the four or five-month mark at the earliest, it's all a process he's gone through before.
Although the last time he went through this—Johnson wasn't alone.
It was in the same Week 1 game against the Tennessee Titans in 2014 that Johnson was injured that veteran defensive lineman Mike DeVito suffered the same injury less than an hour later.
Johnson and DeVito, as was widely reported back then, pushed each other through their rehab, and because of the challenges those two faced together, they remain close to this day.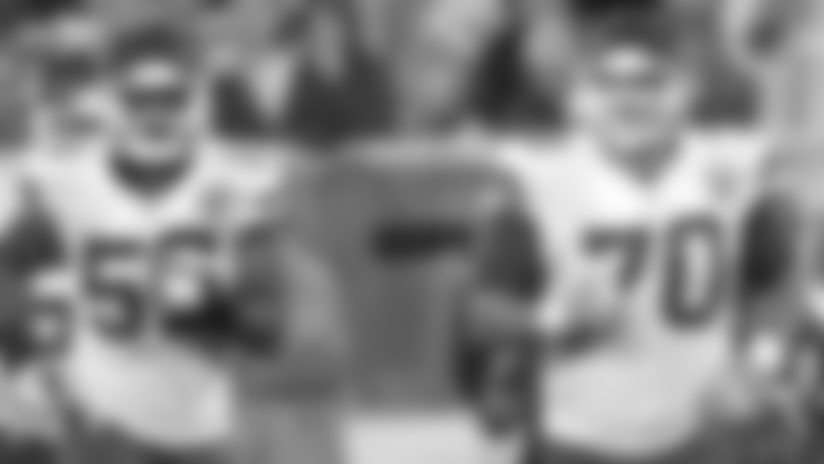 "Talk to him all the time," Johnson said of DeVito. "He was a pivotal part in me coming back last time. He's always texting me and telling me he's praying for me and telling me little jokes that we had back in the day."
DeVito, who retired after nine years in the NFL this past offseason and is currently working on his Master's degree, said he was heartbroken when he saw Johnson go down against the Raiders.
"I was holding my little guy and trying to put him to sleep," DeVito recalled of watching that game with his son, who was just one month old at the time. "I saw D.J. go down and I knew right away what it was, and I'm not afraid to admit it, but I just started sobbing.
"I started crying all over my poor kid, who couldn't go to sleep because he was just getting drenched."
DeVito knows better than anyone what Johnson was going to have to go through, and he couldn't help but empathize for his friend.
"This has just been such a hard season to just sit back and not be a part of it, and I would have done anything to be there with those guys in the playoffs," DeVito explained. "But if you would have said, 'You can go back and play in the playoffs or have your Achilles torn and go back through the rehab with DJ again, I would choose the latter in a second because I know what he has to go through, but now having to do it by himself?
After that game, DeVito quickly reached out to Johnson to let him know that he'd do anything for him, including coming back to Kansas City to help him with his rehab.
"I wouldn't even think twice about it," DeVito explained. "I'll have my family come up here to help my wife with the kids and I'm there. I'll be on the next flight out there. There's not much I would leave home for, but to go back out there and train with him and go through it with him, I would do that.
"If he needs me, I'll be back out there in a second."
When asked, Johnson said he'd love for DeVito to come help him once he's running and getting back to the on-field portions of the rehab, which will come later this spring.
It's all part of the process to get Johnson, who still led the Chiefs with 90 tackles this past season, back on the field to help the Chiefs make another run at a title.
"Knowing [Johnson], I feel bad for the rest of the league because he's going to come back even better now," DeVito added.
Johnson said he appreciates all the support he's gotten from fans over the past couple of months.
"Our fans, they give us hope, all the time, on and off the field," Johnson explained. "They support us so much and they've given me so much love through this injury, and I can't wait to go back and smack some heads just to let them know that we still have a chance to win it all."