---
For the third year in a row, Chiefs linebacker Derrick Johnson hosted Celebrity Waiter Night to benefit his Defend the Dream Foundation on Monday at the Grand Street Café in Lenexa, Kan.
Together with 16 of his fellow teammates in attendance, Johnson strapped on an apron and acted as a table host for more than 200 guests.
As the "Voice of the Chiefs" and host of the event Mitch Holthus wisely pointed out, this was one of Johnson's first appearances with the team since injuring his Achilles last season and missing nearly the entire year.
"It was kind of a public return of Derrick after his injury," Holthus said. "All of us had a lump in our throat and our heart skipped a beat [when he walked out] … Of the 16 players that were there, they all felt the same emotion of how good it is to see Derrick basically back."
After all the players were introduced to the guests by Holthus, four jerseys—one from Jamaal Charles, one from Dontari Poe, one from Alex Smith and one from Johnson himself—were auctioned off.
Next, the waiters gathered together and dinner was served.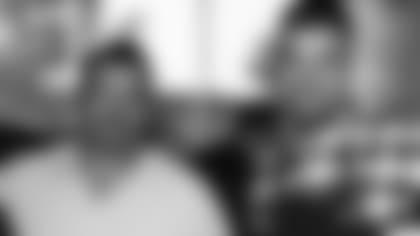 "We believe in the cause and not to mention, DJ is such a great teammate, such a great friend," offensive lineman Jeff Allen said. "We just want to support him along with the great cause."
That cause included putting what Johnson has dubbed "DJ's Discovery Dens" in as many inner city schools as possible.
"It's transforming an unused room into a reading oasis with 1,000 age-appropriate books from scholastics," Johnson said. "We want to make it a cool and fun environment for learning."
Other initiatives the event benefitted in connection with Defend the Dream were the Gearing Up! and the Hitting the Books programs.
"My mom always told me that to be blessed, you have to be a blessing to others," Johnson added. "To bring Kansas City people into Grand Street Café to have a great time with players that they see on TV and actually come out and serve you food … it's pretty cool. The guys are having fun with it, so it's a fun atmosphere."
When dinner ended, other item such as vacations, dinner with Johnson and even his personal opening game tickets were auctioned off in order to make more money for Defend the Dream.
Holthus, who assisted with all aspects of the night, further commended Johnson's efforts.
"Everybody is searching for a way of trying to fund education and there's obviously the tussle over public funding for education," he said. "Derrick is doing something really tangible where the private sector can be involved to fill in the blanks that public funding cannot do."
He also added that he couldn't wait to see Johnson back on the field.
"Derrick is one of my all-time favorite Chiefs players because of the impact that he's had on and off the field and he's a three-dimensional kind of person," Holthus explained. "It's not just his football ability. He has used his football ability and the blessings he's had to help bless others, so to be able to see him walk out behind that partition was profound for me because I also saw how hard he's had to work to come back."
That hard work to get back, according to Johnson, has paid off.
"I am feeling great," he said. "I am 100 percent. My Achilles is totally healed. I'm running with the guys; I feel young again.
"I'm very blessed. I can't wait for football to start."
---
Derrick Johnson's third annual"Celebrity Waiter Night" presented by Glazer's raised $140,400 for the Defend the Dream foundation and included a single $25,000 donation on behalf of IBT Industrial Solutions.**