It's known as the "DJ" special.
The opposing running back will take the handoff and look for a lane to run through. At precisely the moment he feels he has an opening to the second level of the defense, the 11-year veteran and the Kansas City Chiefs all-time leading tackler—linebacker Derrick Johnson—will shoot the gap for a tackle for loss.
His teammates have gotten used to him making those plays, even after missing all of 2014 with a ruptured Achilles.
"He's still looking like he's in year two or three with the way he's flying around," defensive lineman Jaye Howard said of Johnson. "I know I find myself shedding a blocker and I look up trying to make a target and DJ has him in the backfield."
What Johnson has accomplished on the field this season is nothing short of remarkable.
He leads the team in tackles with 82, ranks as Pro Football Focus' No. 5 overall linebacker and serves as one of the leaders on a veteran defense that has dominated throughout a six-game winning streak that has turned the Chiefs season around. 
Chiefs Defense During Winning Streak
The fact that Johnson is helping this defense thrive through the grueling part of the season a year after a serious injury is that much more impressive.
"He doesn't miss practice," Howard said of Johnson. "He's leading by example with us younger guys. I know that's one of the guys I look up to in the locker room."
"He's been here through the rough times and some good times. With us going through the situation we were in earlier in the season and just seeing him put in the work day in and day out, that really helped the defense.
"It definitely brings energy when you see a guy who after 11 years is still working that hard."
It's just the way he's wired.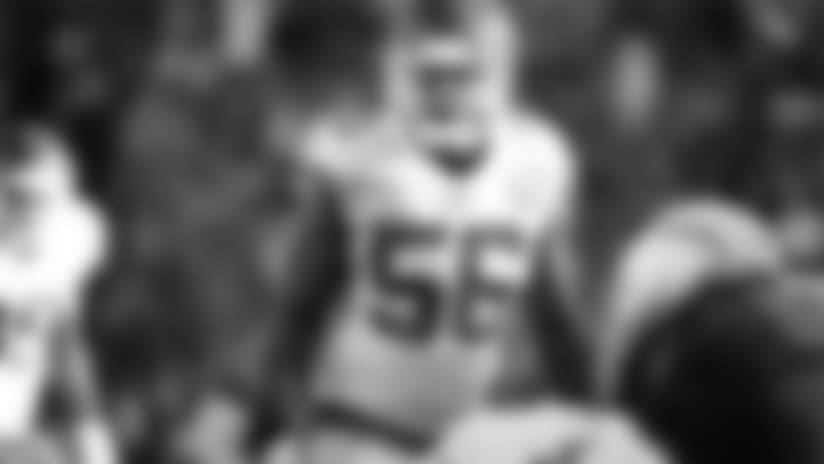 Johnson has been on teams in Kansas City that have ultimately struggled. In their games over the past two weeks against the Buffalo Bills and Oakland Raiders, the Chiefs had to overcome some adversity in those games.
Johnson isn't sure some of the teams he's been on in the past would respond the way this team did, particularly on Sunday against the Raiders, when Johnson led the team with 14 tackles, 2 tackles for loss and a forced fumble.
The Chiefs had to overcome multiple turnovers, penalties and trailed for much of the day, but when it mattered late in the game, they came through.
"We probably would have lost that game a few years ago," Johnson said. "I don't know if we were as tough as we are now. Right now, we are a really tough team to start out 1-5 and to fight our way back. I mean, to keep our confidence through the hard times—this team is unbelievable.
"The sky is the limit for us. Don't get me wrong, we never want to start a season out the way we did, but we have fought ourselves back in a great position to do some great things later on."
But much like we've heard from coach Andy Reid, Johnson knows the work is still ahead of them.
"We have to get better from here," Johnson stated. "There are a lot of things we have to do to get to the next step, and that's win it all. That's why we play this game, and we're trying to put ourselves in a great position."
Individually, Johnson credits the coaching staff and training staff for how he feels right now, physically.
"I feel great," he said. "I'm taking care of my body more. Actually, I'm as fresh as I've ever been. Coach [Andy Reid] takes care of his players; he's a player's coach. To be where I'm at in the third quarter of the season and be as fresh as I am, it feels great."
The good news for Johnson and the Chiefs is that they'll spend the majority of the rest of the regular season at home, starting this Sunday against the San Diego Chargers.
"There's no better place to play but here in Arrowhead," Johnson said. "Those fans—they're unbelievable. They're the best fans in the world. When opponents come here, offenses come here, it's going to be hard to move the ball against us.
"Of the last four, three of them are at Arrowhead Stadium and you can't ask for a better schedule than that."
A collection of photos from 2015 and the career of Chiefs all-time leading tackler Derrick Johnson.