There's simply nothing else like it.
A helmet in hand and a member of the Kansas City Chiefs by their side, it's the kind of experience that will last a lifetime.
It's the "Helmet Walk," and every day following Training Camp practice, it invites around a dozen kids to walk up the hill to the locker room alongside their favorite players.
"These kids come out to practice to watch us, and it wasn't too long ago that we were in their shoes. I remember seeing athletes that I looked up to when I was growing up and how it felt [to meet them], and I'm really not that far removed from that," said long snapper James Winchester. "You can see how excited they are and we're just as excited to walk up with them, so it's a great opportunity for us."
It's an experience shared amongst veterans and rookies alike.
"I have three little boys at home that I miss, so it's fun to hang out with some kids for a minute," said linebacker Frank Zombo. "The memories that these little kids are going to have - just being here and being around NFL football players - maybe it will make them strive for that same goal."
And for young players just now realizing their dreams of playing professional football, it's an opportunity to give back to their new community.
"Kids look up to players, whether they're superstars or rookies," rookie offensive linemen Ryan Hunter added. "Just to interact with a professional athlete is special for a kid, and for us, it means everything. Chiefs' fans are incredible - I'm just happy to be here and happy to give back."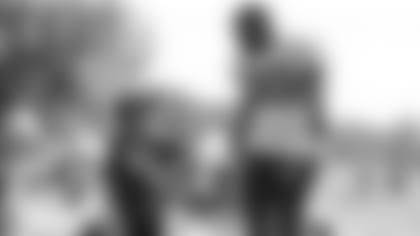 The experience can either be redeemed through Chiefs Kingdom Rewards or, for members of the Chiefs Kids Club, won at random, and it's not the only way the Chiefs are striving to create memories for their youngest fans at camp this year.
Family Fun Day presented by Family Center Farm & Home will take place on Aug. 4 and will feature a kids' zone complete with inflatables, a rock wall, face painting and balloon artists, culminating in a full-team autograph session following practice.
It's all part of the Chiefs' commitment to kids throughout Chiefs Kingdom, which is exemplified each and every morning following practice.
"You never know what a young kid may be going through, so to have this platform and to have this opportunity to brighten their day - whether that be a conversation with them or just through some words of encouragement - you never know where that will take them in the long run," said rookie linebacker Dorian O'Daniel. "Having this opportunity to put that wisdom in their ears, that's what this game is all about."
To sign your child up for the Chiefs Kids Club, click here, and to view Helmet Walk opportunities through Chiefs Kingdom Rewards, click here.