"I want to be more dominant than I've ever been. That's my goal. That's my plan, and I'm going to work until I get there."
For Kansas City Chiefs linebacker Justin Houston, who is just a couple of seasons removed from one of the best pass-rushing seasons in NFL history, the last two years have been defined by a knee injury suffered late during the 2015 season.
As the injury trickled over to last season, Houston, who saw action in just five games last year, has played in only 16 games over the last two years.
"Listen, I get chills just talking and thinking about it," Houston said of what he's trying to prove this season. "I'm just ready to show everybody that I'm healthy and can play the whole season. People said it was bad luck, but really it was one injury that went wrong for two years.
"Now I'm healthy, back for good, and just happy to be out here."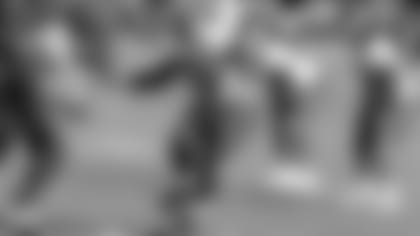 During minicamp a few weeks ago, a brace-less Houston was running around the field uninhibited by the injury he said he's now put past him, adding he didn't even have to think about it anymore. He could explode off the line and not think twice about how it felt.
This time a year ago, Houston wasn't even running, and so if you're looking for signs of progress—there's a big one.
"I tell you did a great job on his conditioning test (Friday morning)," Chiefs coach Andy Reid added of Houston Friday afternoon after practice. "I think he really worked hard this offseason. He looked good doing what we were doing. We did not do much football-wise (on Friday), but he did good with what we asked him to do."
That's another sign of progress, as is the fact that he doesn't appear to be limited in snaps at practice so far during training camp. He's out there the whole time with the first-team defense.
Houston, who doesn't often speak to the media anyways, knows he's at the point that actions mean more than words. He knows there are people who doubt whether or not he can return to the form that made him one of the league's elite defensive players just a couple of seasons ago.
"I have my own personal goals, but I tune everybody else out," Houston explained. "I listen to my teammates because they keep me positive. We've got a family here, so I listen to my guys and I listen to my family."
Over that 16-game stretch the last two years, Houston has amassed 51 tackles and 11.5 sacks, highlighted by a dominant performance against the Denver Broncos last year.
Houston finished that game with 10 tackles, three sacks and a forced fumble that led to a safety in the end zone, which was the catalyst for one of the most exciting games of the Chiefs' 2016 season.
In order for that kind of a performance to become a consistent thing, Houston's teammates said he must be patient.
"That's the biggest thing he's been working on," safety Eric Berry, one of Houston's closest friends on the team, said of him needing to be patient. "You can hear him on the field, he's very enthusiastic about being out here. He just needs to take his time. It's all about being ready to perform.
"I have no expectations for him," Berry added. "I know what he's going to bring. The biggest thing about us is to keep feeding off each other and holding each other accountable. I think that's the best thing about our friendship—the accountability part of it.
"I'm not going to sugarcoat anything for him, and he's not going to sugarcoat it for me. We just keep it straight up and down with each other. That's what elevates our game."
While Houston works to remind everyone of what he brings to the table individually and elevate his game, the goals he has for the team are more clear-cut.
"Super Bowl. I could care less about anything else," he smiled. "I want that ring. We're gonna put that ring on."
Overall, this is a Chiefs' defense that ranks fifth in the NFL over the past two seasons in terms of points allowed per game (18.7), and that's been without a completely healthy-Houston for most of it, so if the progress we've seen from him over the past few months is any indication of what might return, an already-dominant defense is about to get that much better.