It's hard to put into context what the return of Kansas City Chiefs outside linebacker Justin Houston will soon mean to one of the NFL's already-elite defenses, but let's start by looking at the numbers.
Over the past four games—all wins—the Chiefs defense ranks second in the NFL by allowing just 14.8 points per game.
Those numbers are impressive in their own right, but when you add even more context—like the fact that three of those four wins came against three of the top scoring offenses in the NFL—the numbers take on a whole new meaning.
The Chiefs held the Oakland Raiders, who rank No. 5 the league by averaging 27.2 points per game, to just 10 points, they then held the New Orleans Saints, who rank No. 2 by averaging 30.3 points per game, to just 21, and finally the Indianapolis Colts, who rank No. 7 at 26.6 points per game, to just 14.
They shut down three of the league's best offenses without one of the league's best defensive players.
It's also worth noting two of these games— the ones against the Raiders and Colts—were on the road.
This defense has been dominating, and they soon have an All-Pro coming back into the mix, as Houston was brought off the Physically Unable to Perform (PUP) list on Wednesday.
In his five-year career, Houston has amassed 264 tackles, 56 sacks, eight forced fumbles and three interceptions.
Back in 2014, Houston put together one of the single-most dominant seasons for a pass rusher we've ever seen—finishing with 22 sacks, just one shy of setting the NFL's all-time record (22.5, Michael Strahan, 2001).
This generational talent will soon join a defense that already leads the league in turnovers and has allowed just 54 second-half points in eight games, which ranks third-best in the league.
"I feel good," Houston told reporters after Thursday morning's walkthrough. "I'm ready to get back out there with my guys and play."
Houston has been practicing with the scout team for the past three weeks as part of the NFL's rules regarding players coming off the PUP list. He could practice for 21 days while still on the PUP list before he had to be made active, which is what happened on Wednesday.
The next logical question is whether or not Houston will be suiting up this week against the defending NFC champion Carolina Panthers, who have won two straight and have one of the league's most dynamic players in their backfield in quarterback Cam Newton.
"We'll see how he does this week," Chiefs coach Andy Reid said of Houston's availability. "He's been cleared to play, but there's obviously more to it than that. You've got to make sure that you're right. We're not in a hurry there. We just want to make sure he's safe going out there and playing. I'm not sure we probably realize how severe of an injury he had there.
"This guy has really pushed through. His work ethic has just driven him to this point, right here. He's been a beast on this thing. It's been fun to watch, but we just want to make sure he's right."
Houston, who had surgery to repair his knee back in February, originally injured it in Week 12 of last season against the Buffalo Bills, but rehabbed it in time to return for the playoff game against the Houston Texans.
"If we weren't going to the playoffs then that's a different story," Houston said of working his way back last year. "There are guys that play their whole career, 10 plus years and never go to the playoffs. So, I would never turn down that opportunity to be out there during the playoffs with my guys."
"I did everything in my power to get ready to play."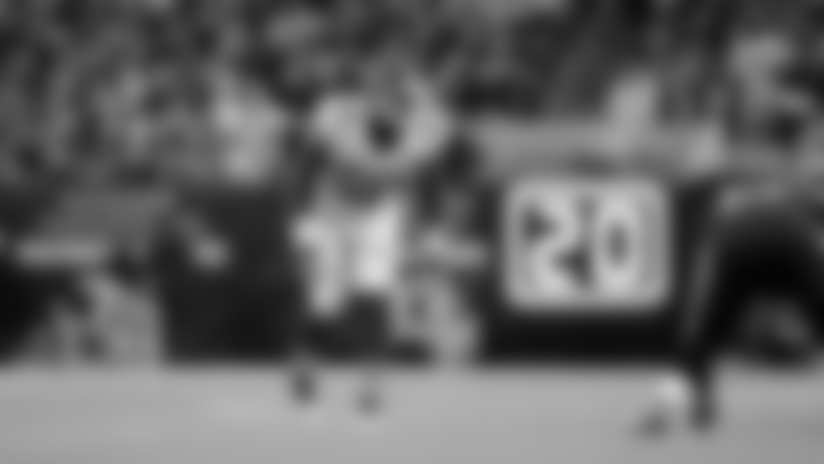 Houston said he knew he wasn't 100 percent against the Texans, against whom he played 44 snaps, but gave it everything he had to help the franchise pick up their first playoff win in more than two decades.
He would only manage eight snaps the next week in the loss to the New England Patriots in the AFC Divisional round.
Houston had surgery in February and has been fighting his way back ever since.
"In my mind I knew I was going to be back, no matter what anybody said and who said it," Houston explained on Thursday. "I don't care who said it. I know who I am and what I can do.
That work ethic is what led those who have been around him the most—Reid and general manager John Dorsey— to express optimism of Houston's chances of returning all offseason and up to this point.
When asked what he learned about himself during the rehab process, Houston echoed the same sentiment said by many who have gone through the same thing.
"How much you miss the game," he explained. "You hear other people talk about it, but you never know until you actually go through it yourself. It was tough seeing the guys out there playing, and you aren't out there with them.
"It was tough, but it was nothing I knew I couldn't handle. I was just talking to other guys that had been through the situation. It's just a grind, but take it one day at a time and it'll get you what you want."
One of the guys who Houston leaned on during this time has seen his fair share of adversity, and he's also one of the players he is closest on the team with—safety Eric Berry.
"I saw him beat cancer, so it was just motivation," Houston added. "I knew if he could beat cancer, I can take care of this."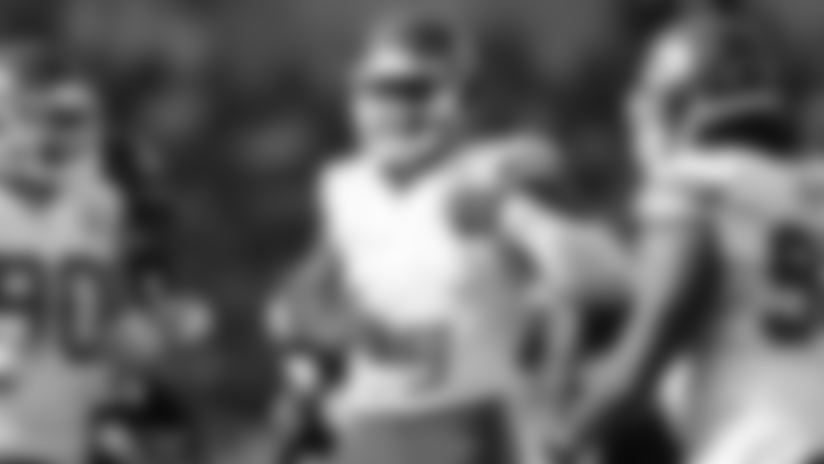 Berry is obviously glad to have his friend back on the field with him.
"Emotionally, just having him at practice, standing out there and calling out stuff, talking to the younger players, it has a big impact," Berry explained. "Having someone like that on the field with that experience, who has been in a lot of games—a lot of battles—some things you don't even have to communicate.
"Things between him and [Derrick Johnson], things between him and myself, we don't even have to communicate. We've already see it on film and talked about it. Let's just go make a play."
Houston's time away gave way for other players to step up and take advantage of their opportunity.
"It made all of us – coaches, players—work hard to try to develop different players," defensive coordinator Bob Sutton explained of Houston's absence. "Those are great opportunities because guys get multiple reps – not only in games, but in practice.
"Obviously, that can be beneficial if you take advantage of it, and I think we've had some guys who have done that. In the end, you'd like to believe it's made us a stronger team, and hopefully it will pay off down the road."
One of the guys who has obviously taken advantage of that time and opportunity is former first-round pick and third-year player, Dee Ford, who currently ranks third in the NFL with nine sacks so far this season.
"I think he's doing a great job," Houston explained of Ford, whom he has been mentoring along with veteran Tamba Hali since Ford came in the league back in 2014. "His talent – you can't coach that. His get off, he has amazing get off, his talent—skills are there. He's a great player."
It's hard to not think about what the defense could be once Houston is on the field and back to his normal self—carrying the torch of the town aptly nicknamed, "Sack City."
"I'm very excited," Houston explained. "We all feed off of each other. If we have the whole family out there together, it's just like having a Christmas dinner.
"I think we can be the best in the game, and I just hope I can add to it."
This defense is already one of the best in the league, and when asked what he expects out of himself whenever he does get back on the field, the answer was simple.
"I expect what I normally do – dominate."