At one station was former cornerback Deron Cherry, who was teaching proper technique when covering a wide receiver. Longtime center Tim Grunhard was at another, instructing on how to correctly move up the field as a lineman.
Fourteen-year veteran and Pro Football Hall of Fame offensive guard Will Shields was also present, as was long snapper Kendall Gammon, wide receiver Kevin Lockett and some two dozen more former players as the first annual Chiefs Legends Youth Football Camp took place at Arrowhead Stadium this week.
It brought together players from every corner of Chiefs history with the common goal of passing along their love of the game to the next generation.
"It brings me back to my days playing football as a young kid," Cherry said. "I didn't really experience too many camps back then, but this is great because we have the ability to teach these kids something that they're going to be able to watch on TV. They're going to experience what they see on TV firsthand from former NFL players."
The players were divided amongst several activities throughout the day, from drills on the field to motivational discussions in the locker room.
"It gets the kids out of the monotony of their day-to-day," Shields said. "It gives them a chance to get back into the sport – the feeling of what it really is – and it lets us teach them what we know. We can give them some knowledge so that they can be ahead of the game."
And much like the lessons learned in football translate to everyday life, the camp strived to leave a lasting impact away from the field.
"Part of this is about football, but a lot of it also is about things that they can carry on with them throughout life," Lockett explained. "We're trying to teach them some things that they can bring back to their families, so by the time that they leave here today, they'll have gotten some football in, but they'll also have received some life lessons as well."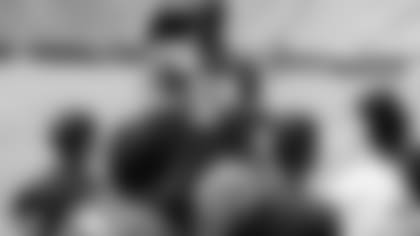 It marked the first youth camp for the Chiefs Ambassadors, who seek to continue their legacy in the community long after their playing days are over.
"This is a great opportunity for us to give back by having the youngsters come out here," Lockett said. "And all of the money that was raised here today goes to our charitable fund, which is distributed throughout Kansas City."
The bulk of those funds will assist organizations that help young people find success in life, and in return, the former players provided the kids at the camp with an experience they won't soon forget.
"For all of us when we were little, there was always a coach or two that really affected us in a positive way," Lockett said. "That's kind of what we want to do here today - by having a positive effect on them and helping them associate the game with having fun. I think if they're able to do that, hopefully they'll be able to continue to play for quite a while. Who knows, maybe a few of them will turn out to be Chiefs."
The Kansas City Ambassadors and Pro Football Hall of Famer Will Shields hosted the inaugural Chiefs Legends Youth Football Camp at Arrowhead Stadium. The event is a one-day youth skills football and character building camp with Kansas City Ambassadors acting as coaches and mentors.