The Kansas City Chiefs' linebackers gave coaching a try on Tuesday as the position group led over 30 kids in a variety of drills and activities as part of an NFL Play 60 clinic at the University of Kansas Health System Training Complex.
The young athletes in attendance were all members of the KC Rebels, a local non-profit youth organization that provides kids with the means to play a variety of sports, including football. The team represented the Chiefs in the NFL FLAG Championships prior to the Pro Bowl in Orlando earlier this year and had a chance to learn a thing or two from their professional counterparts on Tuesday.
"Having the players really show them how to do the drills, talking with them and working with them - it's inspirational for the kids," said Rebels' founder Jamie Carpenter. "It gives them a brighter outlook and a bigger picture beyond what they see at practice every day. You can see the joy on their faces, it means a whole lot to them."
The players – linebackers Reggie Ragland, Anthony Hitchens, Frank Zombo, Terrance Smith, Tanoh Kpassagnon, Ukeme Eligwe, Dadi Nicolas and Tyrone Holmes – took turns leading different activities that focused on improving the kids' skills while having plenty of fun in the process.
"It's always fun to work out with the kids," Ragland said. "They take it out of you – I'm breathing pretty hard right now – but it's a lot of fun."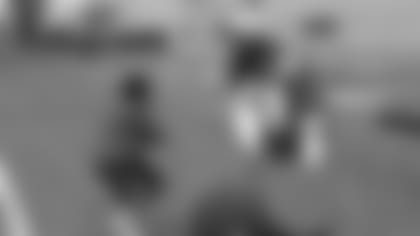 That combination of thrill and exercise is the goal of the NFL's Play 60 initiative, which encourages young people to stay active for at least one hour of every day.
"Once you start being active and you see how you feel after workouts, your body feels that much better and you're going to live a longer and healthier life," Hitchens said. "Even when I'm done playing football, I'll still stay active."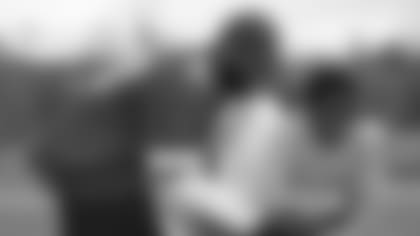 Ragland went as far to share a personal story about the importance of regular exercise.  
"I hurt my ankle when I was in high school and went from 230 pounds to 260 in like three weeks," Ragland said laughingly. "It's very important to stay as active as you can. When I was a kid, I was outside from sun up to sun down. Just stay active and have fun being a kid."
The players also stressed that a healthy lifestyle includes buckling down in the classroom.
"I just want to keep telling them that if you don't get your schoolwork done, you won't be able to play," Ragland said. "When I was in the third or fourth grade, I didn't have good grades and my dad took my whole basketball season away from me. He made me realize that if I didn't do my schoolwork, I couldn't do the things that I wanted to do."
It's those lessons – both the physical and the mental – that have a chance to make a difference when voiced by a professional athlete.   
"A lot of them remind me of myself," Ragland said. "They just want to learn and keep getting better, so it's good to come out here and teach them a few things. As long as they're wanting to learn, I'll teach them."
To learn more about the Rebels or to register to join the team, visit their website at www.kcrebels.org.
Kansas City Chiefs linebackers hosted a Play 60 at the University of Kansas Health System Training Facility.