On Tuesday, the Chiefs Community Caring Team visited a local KFC to meet fans, sign autographs and support First Downs for Down Syndrome (FDFDS). Since 2011, the Chiefs and KFC have united in order to create more awareness for FDFDS.
FDFDS was created to raise money for Down Syndrome organizations, raise awareness of Down Syndrome and enhance the positive images of those with Down Syndrome. FDFDS is supported solely through tax-deductible contributions or participating in special events and fundraisers held throughout the year.
"We are a unique organization as we partner with the Chiefs offensive linemen and one hundred percent of our proceeds benefit a Down Syndrome organization in Kansas City," Amy Stoll, FDFDS Executive Director explained. "We were formed in 1992 and together we raise money for the Down Syndrome community in the area."
](http://www.kcchiefs.com/media-center/photo-gallery/First-Downs-for-Down-Syndrome-Autograph-Signing/0e3a8342-a4f8-4b11-9587-e8bae1da3918)
The Chiefs offensive linemen, Chiefs Cheerleaders and KC Wolf interacted with the families of FDFDS and the community at KFC, signing autographs and taking photos.
"It's been great to interact with these kids, sign some autographs, give back to the community and raise awareness for Down Syndrome," C Rodney Hudson said. "It means a lot to me to be involved in the FDFDS events; it's great to be able to make these kids smile and see them having a fun time."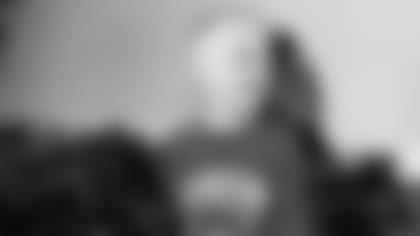 ](http://www.kcchiefs.com/media-center/photo-gallery/First-Downs-for-Down-Syndrome-Autograph-Signing/0e3a8342-a4f8-4b11-9587-e8bae1da3918)
For the past two years, KFC has hosted fundraising events for FDFDS, giving KFC customers the opportunity to donate $1 to FDFDS with every purchase.
"These events are great because it helps make people aware that anytime you visit a KFC, you can buy a coupon book and those proceeds benefit FDFDS," Stoll commented.
All funds raised support local organizations, one of which is The Down Syndrome Guild of Greater Kansas City, which provides education and support to individuals with Down Syndrome and their families.
The Chiefs also support FDFDS through the Step Up for Down Syndrome Walk in October. This past October, more than 8,000 people participated and raised just over $450,000 for FDFDS.
"It is amazing to think that since the Chiefs partnered with FDFDS, over seven million dollars has been raised as a result," Chuck Castellano, Chiefs Community Relations Manager noted. "The Down Syndrome community has received vital support and our players have made life-long friendships through this partnership."
The next time you can support FDFDS  will be at KFC on December 3rd from 12:00 – 1:00 PM. The location will be announced later this month.
To donate to FDFDS, visit their website here.
Check out more photos from the event here.