A chance to keep on living is the best gift many throughout the Kansas City area will receive this holiday season.
The Kansas City Chiefs partnered with the Community Blood Center of Greater Kansas City to provide just that this week as part of the 20th annual Chiefs Kingdom Blood Drive, and the Chiefs' offensive linemen stopped by to kick things off on Tuesday.
"We were able to come out and meet some pretty incredible people today," said center Mitch Morse. "The cool thing about this is that you don't really have to go out of your way and do some extraordinary measure to give back to people who really need blood and could really use your help."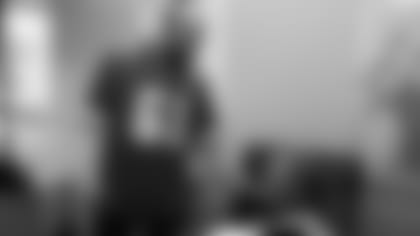 The Chiefs Kingdom Blood Drive has grown tremendously since its inception in 1998, which collected 359 pints of blood in one day. The drive is now a weeklong event at all six Community Blood Center locations scattered throughout the metro.
"It's the most important thing you can do to help our community," said David Graham, the Executive Director of the Community Blood Center. "Every unit can save up to two lives, there's no other source for that other than people coming in and volunteering to donate blood."
The drive contributes to the nearly 200,000 blood products the Community Blood Center provides to over 60 area hospitals every year, and the players' presence drew additional volunteers and donors that may not have stopped by otherwise.
"It brings out more people and it's a great reminder to get the word out about how important it is to donate blood as we're heading into this holiday season," Graham said.
Morse was joined at the event by fellow offensive linemen Mitchell Schwartz, Laurent Duvernay-Tardif and Bryan Witzmann, who met with donors and signed autographs for volunteers.
"These guys are doing an awesome job," Duvernay-Tardif said. "They collect and process over 400 units of blood a day, which is a huge amount with all the safety checks and everything they have to go through in order to get it to the hospital. It's pretty impressive."
Duvernay-Tardif knows what he's talking about when it comes to medicine, as he's been attending medical school at McGill University in Montreal, Canada each offseason since coming to Kansas City three years ago.
"I mean you see the importance of giving blood all the time when you work in a hospital," Duvernay-Tardif explained. "I was doing emergency trauma last winter and when somebody is coming in with massive blood loss, you give them O Negative and it literally saves their life.
"I'm thankful for all the people that show up here today to donate blood."
The Kansas City Chiefs offensive linemen visited the Community Blood Center of Greater Kansas City to kickoff the 20th Annual Chiefs Kingdom Blood Drive.