After sitting out the 2014 season because of an elbow injury he suffered in Week 1 against the Tennessee Titans, Kansas City Chiefs veteran offensive lineman Jeff Allen is ready to get back to work.
"It was really tough," Allen said of last year. "To be honest, everyone here on this level, I think we all have a love for the game but you don't realize how much until it's taken away.
"Fortunately for me, it was just temporary. I was out for a year, it sucked, it was a bummer, but it kind of brought things in perspective for me and I realized you can't take anything for granted."
The Chiefs made some moves this offseason in regards to personnel along the offensive line, trading for two-time Pro Bowler and former first-round pick, Ben Grubbs.
They also signed veteran Paul Fanaika and drafted Missouri's Mitch Morse in the second round.
Grubbs and Fanaika have both played guard throughout their careers and Morse has been praised for his versatility since being drafted No. 49 overall in the second round. He played left tackle at Mizzou but should be competing for one of the three interior positions heading into training camp.
Allen, who has also shown plenty of versatility throughout his career in Kansas City, embraces the moves the Chiefs made this offseason.
"Competition never made anybody worse," he said.
The dynamics within a team are oft lost among those who don't find themselves inside an NFL locker room or inside the mind of the guys putting on the jerseys.
Sure, these guys are competing for starting positions against one another, but they're also working together towards a common goal of becoming a better football team.
For Allen, that means continuing to display the kind of leadership to these new players that he received when he arrived in Kansas City four years ago. 
"When I came in I had one guy in particular—Ryan Lilja—I came in and they wanted me to play left guard and he was already playing that position," he remembered. "That didn't matter to him. He helped me along and taught me some things that I didn't know.
"He didn't hold anything against me and now I feel the same way about anybody they bring in here."
"It's a part of the game and especially when you're playing at this level. There's always going to be a draft. It's no different than any other year. We bring in offensive linemen every year.
"You just have to help those guys along, bring them along, whether you're competing directly with them or not, we're all teammates and it's a family when you walk in here."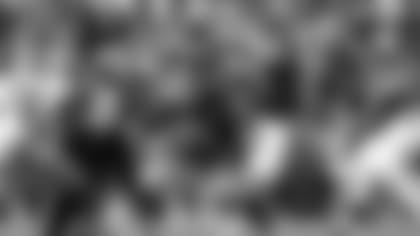 The comparisons between Morse and Allen can be made. They both displayed extreme versatilities in college by playing multiple positions and were both mid-second-round picks (Allen – No. 44 overall, Morse – No. 49 overall).
Allen spent much of this offseason in Kansas City working out with Chiefs strength and conditioning coach Barry Rubin.
He said that his elbow is doing well and that he's actually putting up more weight on the bench press than he's ever done before.
That's a great sign for not only Allen individually, but for the competition of a Chiefs offensive line unit that is looking to improve after struggling through much of 2014.
Because of his versatility, Allen said that his training this offseason had to reflect that.
"A lot of guys cross train," he noted. "A lot of guys these days can't just play one side, so when you're training you're going right and left (with your kick steps and slides)."
In his first three years with the Chiefs, Allen has played left guard, left tackle and right tackle. During his collegiate career at Illinois, Allen played every spot along the offensive line except for center, which he did spend some time working on this offseason.
"That was the biggest change for me this offseason," Allen said of working on his snaps at center. "That's something that I'm not accustomed to and not used to."
Allen and the rest of the offensive line will continue working through Phase Two of the NFL's offseason program.
---
The OTAs schedule has been announced.
Kansas City Chiefs OTA Schedule

May 26-28, June 2-4, June 9-12