It's no secret that two of the most talked-about players on the Kansas City Chiefs just happen to play on the offensive line, Branden Albert and Eric Fisher. The team's bookend tackles are just part of what is already a close-knit OL group.
While ultimately being responsible for protecting Chiefs QB Alex Smith and paving lanes for Chiefs RB Jamaal Charles and company, the team's o-line is currently embracing what is for many of them, a new system.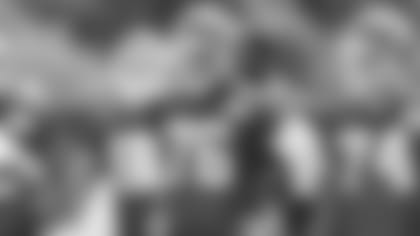 "It's gone well, so far," Chiefs T Geoff Schwartz said. "We've put in a lot of offense; it's new for a lot of guys and our defense definitely flies around a lot, so, we're getting used to communicating, making the right reads and doing the right thing."
Chiefs OL Jon Asamoah likes the progress so far, but says there's plenty more to do before training camp arrives.
"We have a lot of work to do," Asamoah said. "We all have to get on the same page and get our plays down so we can start playing faster, so that we can go out there and score a lot of points. We want everything to be clean up front and eliminate mistakes, so that we can go into training camp feeling confident.""
A big help in getting the group on the same page is having Branden Albert back on the field and in the locker room.
"It has been great," Chiefs OL Jeff Allen said. "Branden is the leader of the offensive line; he is the oldest guy on the offensive line right now and he has a ton of experience and wisdom to share with us."
"He brings another veteran presence to the room," Asamoah added. "We are a pretty young group, so, it is great having him around; it also brings stability to that side of the line."
On the other side of the line is rookie RT Eric Fisher, who has impressed the OL group collectively.
"He's coming [along]," Allen said. "The best thing about him is that you haven't noticed him, which is good for an offensive lineman, because it means he isn't making many mistakes. He's mixing in with us and has been doing a good job."
Geoff Schwartz likes Fisher's intelligence and speed.
"He picks up the offense pretty fast," Schwartz said. "He plays fast; he knows what he's doing. It's been good to see him go to Branden and trying to get some technique work."
Speaking of Branden, he offered an evaluation of Fisher.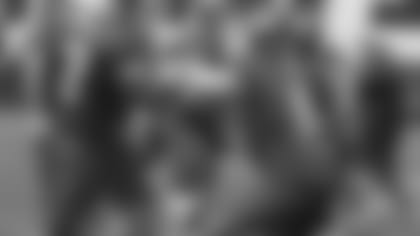 "He's going to be good," Albert said. "He cares about his job' as a young player, that's very important, coming off being a number one draft pick. I know he wants to get better. He's coming in early to be as good as he can possibly be; he's working hard to be a great offensive tackle. I'm trying to help him and he's helping me, too. I'm learning from him."
Albert, Fisher, Allen, Schwartz, Asamoah and the entire o-line group are all benefitting from not one, but two offensive line coaches, Andy Heck and assistant offensive line coach Eugene Chung.
"I love them," Asamoah said. "Having two guys that have played years in this league is great. When they are telling you to try this or do this, it's a big advantage. It just feels good having those guys in the room."
Albert couldn't say enough about the dynamic duo of Heck and Chung.
"They're on the same page; they demand the same things," Albert said. "They're coming together and collaborating, making sure we're all on the same page."
Players like Geoff Schwartz really appreciate both coaches, especially after not having such a luxury in the past.
"I think it's a great thing," Schwartz admitted. "Both of them work constantly with each other; they're both very detail-oriented. They both demand a lot out of us, but also know when it's time to back off a little bit and so, it's going great."
While Chiefs fans anticipate great things from the offense in 2013, they're well aware it all starts up front and under no better direction than from the position group's two coaches.