For fans of the Kansas City Chiefs who sent their well-wishes to second-year offensive lineman Parker Ehinger over the past year —he saw your tweets, messages, and words of support.
Ehinger, who was drafted in fourth round (No. 105 overall) two years ago out of the University of Cincinnati, was lost for the season midway through the Chiefs' Week 8 game against the Indianapolis Colts. He started four games at left guard before the injury.
"It's been endless positive support," Ehinger, who was just brought off the PUP (physically unable to perform) list and returned to practice for the Chiefs on Monday, told the media Tuesday afternoon. "I love Chiefs Kingdom. A lot of fans reached out to me whether it was around the time I got hurt, a couple months into it, or up until now.
"They've always been supportive of me, even since I first got drafted, but they showed their love and support, and that meant a lot to me."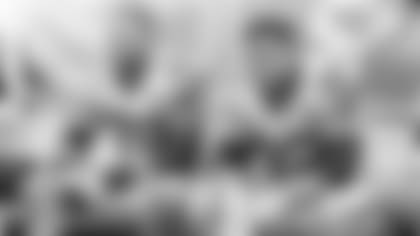 Ehinger recalled the injury, which came on a screen play.
After getting out in space to make a block, Ehinger got twisted up, went down, and immediately knew something was wrong.
"It was the most pain I've ever felt in my life," he said.
Ehinger tore his ACL, MCL and meniscus—the "grand slam" as he called it.
It wasn't a standard knee injury, and he almost immediately began focusing on the process—the future.
"At the time, I kept telling myself I'm young, I'd always come back from injuries before," Ehinger explained of his mindset after the injury. "But this was my first true major injury. I knew was going to be a journey when it first happened. I knew it was going to be a long haul back, but I was ready for it and just embraced the process."
The hardest part for Ehinger, who never had a major injury in his football career before this, was watching his teammates get after it together each Sunday.
"I'd never been one to be sitting on the sidelines watching games," Ehinger said. "It was tough for me in the first place watching those games, and then to have the chance to go to playoffs and I couldn't be out there, that was very tough. And I still had a long road ahead of me in the offseason when I was staying around here and a lot of guys were enjoying their family and friends—I had to be here.
"I was busting my butt trying to get back out there. I think I came out a lot mentality stronger and mentality tougher through this all."
The initial diagnosis on the return was 10-12 months for Ehinger, who was back on the field Monday afternoon—two weeks shy of 10 months removed from the injury.
"I was always a little ahead of schedule through the whole rehab process," Ehinger added. "I felt like my body healed very quickly through it all. Kudos to this training staff, Dr. Andrews—my surgeon down in Florida—they all did a great job and I had a great trainer here (with the Chiefs) in Aaron Borgman, who pushed me the whole time to help get me back."
Besides Borgmann and head Chiefs' athletic trainer Rick Burkholder, there was another guy Ehinger leaned on throughout this process in former Cincinnati Bengals offensive lineman, Adam Kieft.
"He was a guy who went to my high school, played at Central Michigan, and was drafted by the Bengals," Ehinger explained. "[Kieft] actually had two major knee surgeries and his career was short. So, he was a guy I relied on a lot, and a guy I've known since I was a little kid. He kept me positive."
Right now, Ehinger has a lot of reasons to be positive considering how far he's come over the past year.
"I'm just trusting what the doctors tell me and the trainers and the staff and what my body is telling me," Ehinger added. "I'm not writing [the season] off. It's hopefully going to be in the foreseeable future that I'm back out there."